Matthew Goodman, MD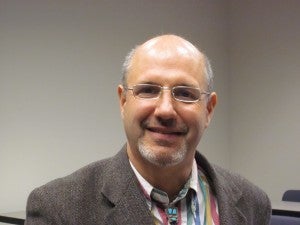 I was educated at Harvard and Southwestern Medical School. I did my residency training in Internal Medicine at UVA and served as chief medical resident in 1991-1992. I then joined the department of internal medicine at UVA where I currently serves as Associate Professor of clinical medicine in the division of general medicine.
My responsibilities include a private outpatient primary care practice, as well as the supervision of medical residents and third year students in ambulatory internal medicine. I also periodically serve as attending on the inpatient medicine and general medicine consultation services. I am a mentor for first year students in the Practice of Medicine course. I am also codirector of the UVA Mindfulness Based Stress Reduction Program.
I have been involved with the GSP since 1996. The program has allowed me to pursue interests in mentoring students, teaching Doctor-Patient skills throughout the curriculum, and enhancing the status of generalist medicine in the academic setting.
Over the past several years, I have mentored students doing a variety of research projects. Topics have included breast feeding among minority populations, health care preferences of nursing home patients, barriers to care for indigent patients with diabetes mellitus, adjustment of patients on isolation status in the hospital, and motivational interviewing. I am also looking towards doing projects evaluating the UVA Stress Reduction Program.
I was married in 1996; and with my wife Valerie, are actively involved in raising two delightful children, Sadie and Jonah. I still manage to play competitive soccer and look forward to getting back to fly fishing when the children get a little older.