Grants 101
Overview of Grant Submissions in SOM
Simply defined, "sponsored research" is research that is funded by an external source or a "sponsor."  Sponsored research encompasses much more, however, than that simple definition conveys and includes considerations that may affect the University financially and legally.  The University has a number of systems in place for managing the many concerns that accompany sponsored research, including post-award management and accounting, compliance, and reporting.
The Grants Team in the Office of Grants and Contracts reviews and submits proposals for sponsored programs that encompass any scholarly, research, or professional activity conducted by SOM faculty and professional research staff using support from external funding sources through grants, cooperative agreements, research agreements, or other arrangements.
The timeline below provides a guide for investigators and administrators to prepare and submit a standard grant application within the School of Medicine.  The suggested process will ensure timely submission of all proposals, accuracy of the application components, and adequate input from the investigative and administrative teams, which increases the probability of a successful submission.
(Click image to expand)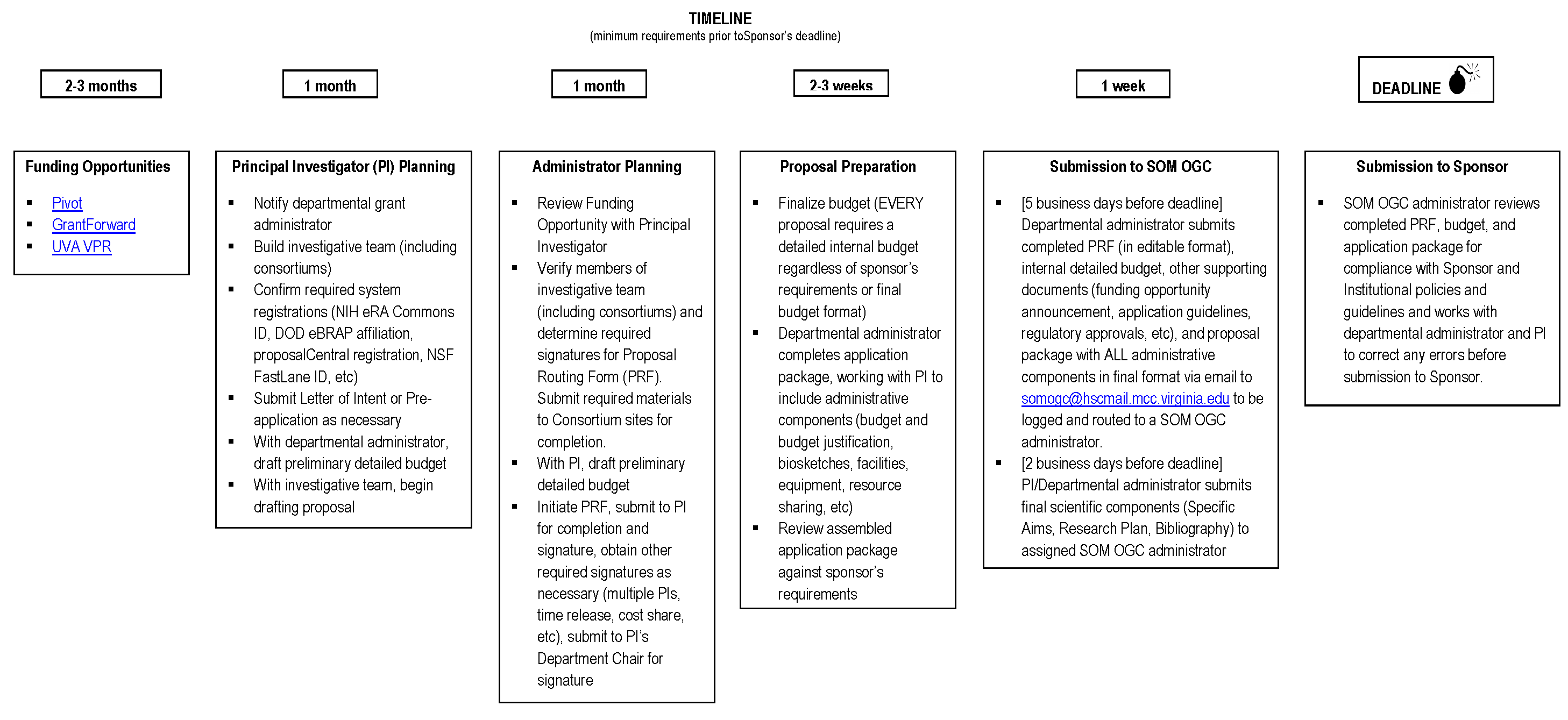 Grant Management
Management of sponsored research in the School of Medicine is a combined effort of the Office of Grants and Contracts, the central Office of Sponsored Programs (OSP), the Principal Investigators, and departmental Research Administration staff.  SOM OGC and OSP consider the policies, regulations, and requirements issued by the sponsors as well as those issued by the state, Federal offices, and the University.  In accepting a grant or a contract, the University assumes responsibility for fulfilling the requirements of each of these entities.  Expenses incurred under grant accounts are subject to an annual audit by the State Auditor of Public Accounts and can also be subject to an audit by the University, other state and Federal entities, and sponsors.  The Principal Investigators of sponsored research projects are responsible on behalf of the University for the sound technical, fiscal, and administrative management of the project or program.
To assist in the preparation and submission of proposals and the management of subsequent awards, the SOM OGC office maintains a team of five Grant Administrators with specific departmental portfolio assignments.  Please check the Contact section of our website for the most current departmental assignments.  Your assigned Grant Administrator should be your first point of contact for all pre- and post-award management concerns and will act as a liaison with OSP when necessary.
The University's electronic research administration system, ResearchUVA, maintains all electronic research administration records, including copies of proposals, awards, and agreements, and also provides updated fiscal snapshots for existing awards.
Who can be a PI on a SOM Grant?
Proposals may only be submitted by elected members of the faculty:  Professors, Associate and Assistant Professors, Instructors, and Lecturers. [http://www.virginia.edu/finance/polproc/pol/viiia1.html]
Others individuals may serve as PI, if allowed by the funding program and if approved by their Chair, Dean, and the Assistant Vice President for Research Administration.  To request exception to the PI policy, a letter and biosketch must be sent by the prospective PI, his/her mentor, and Chair to the Office of Grants and Contracts for review. [http://www.virginia.edu/polproc/proc/8-8.html]
Junior faculty members, fellows, or other individuals in an official mentee role may submit proposals when their mentor is named as the UVA PI of Record on the internal award account.  These proposals do not require a PI exception request.
Consortia
SOM faculty often work with investigators at other research institutions either to perform a specified sub-project as part of a larger project, or as directors of larger research projects which require a portion of the work be sub-contracted to another entity.  OSP facilitates these relationships by executing incoming and outgoing subaward agreements.  When the University is participating as a sub-contractor for an outside organization, a proposal must be submitted to the SOM OGC for review and approval before any information can be communicated to the sponsor.  At a minimum, this proposal must include a Proposal Routing Form, Consortium Commitment Form/LOI, Statement of Work, Budget, and Budget Justification.  Similarly, when the University is submitting a proposal as the prime applicant to an external funding agency, our sub-applicant must submit similar documents to us as part of our larger proposal.
Grant Transfers
When an investigator decides to transfer to/from the UVA School of Medicine, the Office of Grants and Contracts works to ensure that their research funding transfers with them as efficiently and as seamlessly as possible.  Investigators should notify their departmental Research Administrator and the SOM OGC Grant Administrator as soon as possible that a transfer is imminent so that the appropriate planning can begin for the move.  Often, these transfers involve many parties, whether there is equipment to be moved, data or biological specimens to transfer, animal subjects to be re-housed, support/laboratory staff to consider, etc.  A collective effort of all necessary personnel ensures that the research will not be negatively impacted by the administrative disruptions of an investigator's transfer.
No matter the sponsor, a letter or other notification of relinquishment must usually be submitted by the awardee/applicant institution for any existing grant awards or pending proposals.  Typically, there is also a corresponding transfer application or notification of acceptance required from the new institution.  Depending on whether UVA is the relinquishing institution or the transferring/incoming institution, SOM OGC will assist the PI/PD and departmental staff with preparing the necessary documentation.
Federal Regulations Related to Research Administration
Uniform Guidance:  The Uniform Guidance is the Office of Management and Budget's (OMB) Uniform Administrative Requirements, Cost Principles, and Audit Requirements for Federal Awards.  The Uniform Guidance was officially implemented in December 2014 by the Council on Financial Assistance Reform (COFAR) and supersedes guidance from earlier OMB circulars.  The Guidance streamlines eight Federal Circulars (A-21, A-87, A-110, A-122, A-89, A-102, A-133, and 1-50) into a single, comprehensive policy guide.
Federal Acquisition Regulation (FAR):  The FAR was established to codify uniform policies and procedures for the acquisition of supplies and services by executive agencies.  The Federal Acquisition Regulations System consists of the Federal Acquisition Regulation, which is the primary document, and agency acquisition regulations that implement or supplement the FAR.  The FAR governs Federal contracts.
Federal Demonstration Partnership (FDP):  The University of Virginia is a member of FDP, a cooperative initiative among select Federal agencies and institutional recipients of Federal funds with the purpose of increasing research productivity by reducing the administrative burden associated with managing research grants and contracts.  The General Terms and Conditions and agency-specific terms and conditions are review and revised on a periodic basis to reflect the types of actions that require prior approval as well as those that are pre-approved.  The specific FDP General Terms and Conditions and those that are sponsor-specific are solidified at the time of award and generally remain in effect for the duration of the award.
Federal Register:  Published by the Office of the Federal Register, the National Archives and Records Administration (NARA), the Federal Register is the official daily publication of Federal regulatory material, Federal laws, presidential documents, and the rules and regulations of Federal organizations, programs, and activities.  Examples include 41 CFR 301-3 Fly America Act, 21 CFR 312 Investigational New Drug Applications, and 21 CFR 812 Investigational Device Exceptions.