The Fellowship Experience
The Division of Hematology/Oncology offers a three-year combined Hematology and Medical Oncology (Heme/Onc) training program. Trainees must be eligible/certified in Internal Medicine before they will be eligible for certification by the American Board of Internal Medicine in the subspecialties of Hematology and Medical Oncology.
The University of Virginia Health System is a referral center providing primary and tertiary care for large portions of Virginia and West Virginia. All inpatient and outpatient services in Heme/Onc are provided in Charlottesville, Culpeper, or Augusta. The Heme/Onc inpatient service consists of 34 ward beds, including bone marrow transplant. Two attendings are assigned to the inpatient service. The attending directs a fellow, residents, interns, and medical students, and provides primary coverage for the ward service.
The University of Virginia is the recipient of a NCI Cancer Center Support Grant, with basic research programs in
The clinical research program focuses on drug discovery, including phase I and II clinical trials and phase III trials in cooperation with the ECOG, GOG, NSABP, pharmaceutical trials, as well as investigator initiated trials.
To learn more please visit the Cancer Center's Research Programs page.
Clinical
A fellow in the combined Hematology-Oncology training program is required by the American Board of Internal Medicine to complete a minimum of 18 months of full-time clinical training with patient-care responsibility, and 36 months of training in an outpatient continuity clinic. Full-time clinical training is defined as at least 80% of the fellow's professional time during a working week dedicated to clinical (patient care or educational) activities. The 18 months of clinical activity must include six months focus on benign hematology, and 12 months on neoplastic diseases, including malignant hematology. In addition, the board requires training in a number of associated disciplines and procedures. These requirements are met by rotations on the inpatient ward, hematology consult service, ambulatory oncology block, disease-specific clinics, and selected clinical electives.
Outpatient Clinics
The continuity clinic provides a major portion of a fellow's education in the natural history and management of hematologic and oncologic disorders. Continuity clinic is 2 half days per week for the entire three years of the fellowship, with the addition of supplemental clinics in years 2 and 3 of training. Fellows see patients in dedicated clinics with disease-specific attendings. Rotations occur at six month intervals to allow for exposure to a variety of diseases, as well as to a variety of faculty. In the 3rd year of training, fellows can choose to subspecialize in a specific disease and can preferentially rotate in those clinics.
Disease-specific clinics include breast, prostate/GU, lung, GI, head/neck, sarcoma, melanoma, malignant hematology, as well as benign hematology and hemostasis. Most cancer clinics are multidisciplinary, thus fostering a team approach inclusive of surgeons, pathologists, medical oncologists and radiation therapists. Additional ambulatory experience is obtained during ambulatory oncology blocks and as electives in the second and third years. Both a variety of attending management styles and a mix of patient disorders will be encountered. During a clinic rotation, the fellow evaluates new patients, reviews progress of established patients, and participates in multidisciplinary aspects of the disease-specific clinic by participating in post-clinic conferences and tumor boards.
Consultation Services
The Hematology consultation service operates separately and independently providing inpatient consultations as well as undirected outpatient consultations. One fellow is assigned to the Hematology consult service and residents or medical students may also participate.
The oncology consult service is covered separately by the Oncology Consult fellow who coordinates the service's activities working closely with disease-specific attendings. The on call ward fellow assumes responsibility for all consultations, hematology and oncology, at night, on weekends and holidays. Consultation in hematology and oncology are provided 24 hours a day, 7 days a week. The consult fellows supervise and teach the residents and students rotating on the service.
Inpatient Service
The ward attending and fellow work closely with residents to provide optimal care to patients with a variety of malignant and occasionally benign hematologic problems. One fellow is assigned to the inpatient ward. There is no fellow assigned to the inpatient medical oncology service, which is usually covered by an attending alone with residents, interns and medical students on the team.  The ward fellow shares night and weekend on call responsibilities with the hematology consult fellow and the oncology consult fellow, adhering to duty hour limitations. The ward fellow's responsibilities include: overseeing inpatient malignant hematology and bone marrow transplantation specific care; providing didactic and clinical teaching in heme/onc to the residents and medical students; participating in morning rounds and evening check-out rounds; writing chemotherapy orders; administering intrathecal chemotherapy; and performing bone marrow biopsies and interpreting bone marrow aspirates for inpatients on their service. The general medical care for each patient is the primary responsibility of the resident not the fellow but the fellow may serve as a general medical consultant to the residents as needed.
Electives
Formal electives are required in stem cell transplantation, radiation therapy, blood banking, hematopathology, specialty diagnostic laboratories (immunology, flow cytometry, cytogenetics, molecular genetics), coagulation, gynecologic oncology, palliative care and pain control, and infusion center with chemotherapy administration. Remaining elective time may be self-designed but requires approval of curriculum, goals and evaluation method by the program director.
Research
Participation in a research project during the fellowship is required. A fellow must choose a research track before the end of the first fellowship year; the design of the last two years of training differs depending on whether a basic or clinical research track is chosen. During the first year of training, fellows will have approximately 2 cumulative months of research time in order to find a research mentor, and plan and design their upcoming research for the following years. First year fellows will have research workshops during which they learn to ask a scientific question, build a proposal, and submit an application for the Farrow Fellowship Award (see below) by April of their first year.
The basic research track requires completion, preferably, of all but the continuity clinic portion of the clinical requirements by the end of the second year, so that a full year may be spent in the research laboratory with few interruptions for clinical rotations. Several basic research areas are available through the UVA Cancer Center.
The clinical research track begins at the beginning of the 2nd year of training, and requires the fellow's continued involvement for at least two full years, although only isolated months will be reserved for research-only activities. Patient accrual into trials and intermittent study-related activity occur continuously, and therefore fellows will often be participating in research activities and in clinical rotations at the same time. Clinical research protocols are available within the context of ECOG and other collaborative groups, and as investigator-generated protocols in cancer and hemostasis.
The Farrow Oncology Fellowship (FOF) is a one-year fellowship award, supported by the Cancer Center Farrow endowment, and presented to a Hematology/Oncology trainee interested in developing a career in academic Medical Oncology, Benign or Malignant Hematology, or Stem Cell Transplant. This award is designed to strengthen a trainee's future application for independent research funding. The recipient of this award will receive support for one full year of training, in addition to support for research activities or, if desired, participation in the Masters of Science in Clinical Research program. In addition, the successful candidate will be supported to travel to one major national meeting (ASH or ASCO, or an equivalent meeting), in line with his/her line of research, during this year of training. Alternate funding will need to be obtained for attendance to any additional meetings throughout the year. The successful applicant will be chosen by a peer-review process conducted by members of the FOF Committee. This committee consists of the Hematology/Oncology Division Chief, the fellowship Program Director, the Cancer Center Director and either the Deputy Director or an Associate Director of the Cancer Center, in addition to several other faculty members.  Applications will be judged on evidence of a strong commitment to an investigative clinical trial or basic research project. The scientific merit of the proposed study, as well as the credentials of the applicant and the likelihood of the applicant pursuing an academic career will be important factors. Proposals are due by April 15 and the recipient will be notified by May 1.
Education
In addition to the clinical experience, didactic lectures and conferences are a vital part of the fellowship. ACGME requires Conferences to be conducted regularly and must be attended by faculty and fellows. The fellowship complies with the minimum requirements of at least one clinical conference weekly (Grand Rounds/tumor boards); one journal club monthly; one research conference monthly(Cancer Center Seminar); and at least one core curriculum conference weekly, (averaged over 1 year).
The core curriculum conference series includes the basic sciences relevant to hematology and oncology and the clinical topics in the subspecialties. A core curriculum conference series is in place and will be repeated on an annual basis so that fellows will have several opportunities to attend the core conference topics. Additional conferences include weekly hematopathology, bone marrow sign out conferences, biweekly cancer center symposia, clinical coagulation conference and tumor boards that occur several times a week. Fellows are required to document in their portfolio that they have attended the required conferences averaging one clinical conference a week, 1 tumor board a week, attendance at one didactic lecture a week, and attendance at monthly journal club and research conference. Sign-in sheets for faculty and fellows are required.
A board review lecture series designed and implemented by the fellows provides an opportunity to teach peers and concentrate on specific topics over the three-year fellowship. Fellows are required to teach residents and medical students on rotations. Over the course of the 3 years the fellow prepares at least 3 grand rounds presentations, 3 Morbidity and Mortality conferences, and 4-6 journal club presentations. Patient presentations at tumor boards should occur at least monthly and preferably weekly. During the fellowship, each fellow will present either a talk or poster session at a regional, state or national meeting.
Committee & Administrative Work
Fellows must serve on committees to learn administrative responsibility and to foster professional development in a healthcare system. Trainees are required to participate in the planning and conducting of conferences. Every fellow will participate in the Educational Committee in their 2nd or 3rd year to review, revise, and schedule the core didactic and grand rounds conferences. Every fellow will participate in the Clinical Committee in their 2nd or 3rd year to review, revise, and schedule the clinical rotations and electives. All fellows are encouraged to join practice committees to review and revise clinic procedures and policies. Fellows have recently served on the Infusion Center committee and the Practice Committee to implement a new electronic medical record. One fellow a year serves on the fellowship admissions committee and one third year fellow is chosen to serve as the Chief Fellow for the year, with a variety of responsibilities assigned to that role. The Chief Fellow also serves on the Program Evaluation Committee.
ASCO Trainee Council — Michael Devitt, MD
ASH Trainee Council — Puja Arora, MD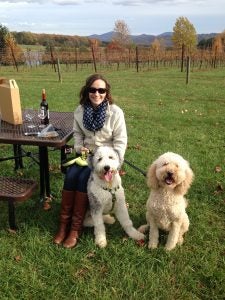 Trish Millard, MD
Third Year Fellow
Why Hematology/Oncology?
As a medical student, I was drawn to internal medicine for the thoughtful and thorough approach that I observed internists practice in medicine. I looked forward to the meaningful connections I would have with patients and also to gaining a broad understanding of diseases. During my intern year, I was inspired by my interactions with the oncology patients admitted to the inpatient service. These patients were vulnerable and really relied on the medical team for support and treatment. These interactions first attracted me to hematology/oncology and lead to me spending more time in the hematology and oncology clinics. I was impressed by the direct connection from basic science to understanding and treating hematologic and oncologic illnesses. It was clear that the treatments in this field were innovative and made a real difference for the patients. I knew then that I wanted to be a part of this field.
What opportunities do you have at UVA that made you choose to come to UVA?
When looking at fellowship programs, I knew that I wanted a program that provided me with strong mentors and the opportunity to truly engage in my learning and research experiences. This has definitely be the case at UVA. During my first year I applied for and won the Farrow Fellowship, which provided the funding necessary for me to design and initiate a phase 1 clinical trial at UVA.  This experience is extremely valuable for my career going forward and it would not have been possible without good mentorship.