Infectious Diseases & Global Biothreats Research Day
ID & Global Biothreats Research Day 2021
Monday, March 1st, 2021
"SeXX Affects Immunity and Outcomes of Respiratory Viral Infections"
Professor, Department of Molecular Microbiology and Immunology
Co-Director, Johns Hopkins Center for Women's Health, Sex, and Gender Research
Johns Hopkins Bloomberg School of Public Health
Baltimore, MD 21205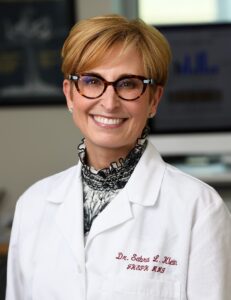 Dr. Klein is a Professor of Molecular Microbiology and Immunology at the Johns Hopkins Bloomberg School of Public Health. She is an expert on sex and gender differences in immune responses and susceptibility to infection and currently has over 130 peer-reviewed publications, authored several book chapters, and edited two books on the broad topics of sex differences in response to infection and treatments for infectious diseases. During the 2009 influenza pandemic, she was commissioned by the WHO to evaluate and publish a report on the impact of sex, gender, and pregnancy on the outcome of influenza virus infection. During the current COVID-19 pandemic, Dr. Klein has written commentaries for several journals and been interviewed by several major news media outlets about male-biased disease outcomes. She is immediate past President of the Organization for the Study of Sex Differences, PI of the Johns Hopkins Specialized Center for Research Excellence (SCORE) in sex and age differences in immunity to influenza, MPI of the Johns Hopkins COVID-19 Serology Center of Excellence, co-chair of the advisory board of the Johns Hopkins Building Interdisciplinary Research Careers in Women's Health, member of the Advisory Committee on Research on Women's Health at NIH, and co-director of the Johns Hopkins Center for Women's Health, Sex, and Gender Research.
Monday, February 24th, 2020

"A New Paradigm for Studying and Treating Infectious Diseases: Damage Control"
Liise-anne Pirofski, M.D. Professor, Microbiology & Immunology, Selma and Dr. Jacquest Mitrani Chair in Biomedical Research, Chief, Infectious Diseases, Dept. of Medicine, Albert Einstein College of Medicine, Bronx, NY
Pinn Hall, 10:00am – 5:00 pm
Full schedule of events below.
All are welcome to attend and participate in this scientific gathering. The day will highlight the work of our trainees, and celebrate the breadth and depth of infectious disease and global biothreats research at UVA.
All undergraduate and graduate students, residents, fellows and postdocs with an interest in infectious disease and global biothreats research are encouraged to submit an abstract. Oral presentations will be selected from submitted abstracts:

Deadline for abstract submissions is January 27, 2020
Participants will be informed on February 10, 2020, if they should prepare their submission as an oral or poster presentation.

For more information, call Ginny Atwell, ID fellowship program coordinator, at 434-243-6832, or email her VMA9T@hscmail.mcc.virginia.edu.
Schedule
Time
Event
Location
10:00 – 11:30 am
Career Forum
Pinn Hall Auditorium
11:45 – 12:15 pm
Lunch
Pinn Hall 2ABC
12:15 – 1:30 pm
Poster Presentations
Pinn Hall 2ABC
1:30 – 2:45 pm
Oral Presentations
Pinn Hall Auditorium
2:45 – 3:00 pm
Break
Pinn Hall
3:00 – 4:00 pm
Keynote Speaker-Liise-anne Pirofski, M.D. Professor, Microbiology & Immunology, Selma and Dr. Jacquest Mitrani Chair in Biomedical Research, Chief, Infectious Diseases, Dept. of Medicine, Albert Einstein College of Medicine, Bronx, NY
Pinn Hall Auditorium
4:00 – 5:00 pm
Presentation of Awards –
Dr. Bill Petri, Division of Infectious Diseases
Pinn Hall Auditorium
4:15 – 5:00 pm
Remove all posters
Pinn Hall 2ABC