Esprit de Corps
What makes the UVA Internal Medicine Residency program special? The sense of community and camaraderie that exists among our residents and faculty. The program prides itself on being resident-run, with ideas for change coming directly from the residents, who are at the bedside day in and day out. As a result, residents have a sense of ownership and investment in the program that is reflected in how they describe their experience and their reasons for choosing UVA. You can read their testimonials here.
The esprit de corps at UVA will grab your attention on interview day and never let go! This is evidenced by the sheer number of our residents who have stayed on as faculty, or those who have left UVA only to return at a later time and make Charlottesville their home again. Your co-residents quickly become more than colleagues — they become your friends and your second family. Just take a stroll on the Downtown Mall or visit Carter Mountain Orchard on a Thursday evening, and you are bound to run into a group of residents enjoying Charlottesville together. We hope you will consider joining the UVA residency family!
Meet Hank, Our IM-R Mascot !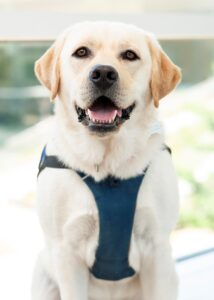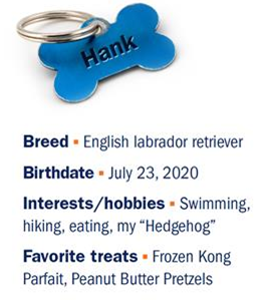 Hank, a two year-old English Labrador Retriever, is our official IM Residency Mascot! Hank is a trained pet therapy dog and volunteers weekly at UVA Health where he visits with patients, families, faculty, staff and housestaff. He and his owner/handler, Joy Hilton (also our DOM Director of Education), visit units in the UVA hospital and the University Medical Associates (UMA Clinic) where our residents practice as PCPs. Hank also enjoys dropping in on residency education sessions like Noon Conference in the Education Resource Center, where there are typically lots of residents he can hang out with. Here's one testimony to Hank's prowess in offering support to patients, families, and trainees at UVA Health and UVA School of Medicine:
"I was making rounds with Hank in the hospital when a middle-aged gentleman walked into the hallway. He immediately came to Hank, bent down, and hugged his neck. He held on for some time and continued to quietly pet Hank. He eventually looked up at me and shared that his wife was being taken off life support within the hour after an extended hospital stay. When I had few words to comfort him in that moment, an 85-pound Hank hug brought some comfort and healing to his world." Joy Hilton