EPIC
This page describes the process for requesting access to EPIC. For use instructions, see this page.
SOM students use EPIC most often from workstations that are provided by the Health System's Technology Services (HSTS) department in the clinical setting. For various reasons (too few computers available, midday patient updates, preparation for pre-rounding), students find it convenient to access these clinical applications from a personal computing device – particularly their laptop, occasionally using an iPad.
So, the first thing to do is to request access to EPIC.
Requesting access to EPIC
There are multiple roles (privilege levels) and you should check with your supervisor/faculty sponsor to determine which is needed. Each level has differing training requirements:
Clinical View Only – typically needed by Med 1 and Med 2 students. Requires the completion of some Computer Based Learning (CBL) modules.
Research Coordinator/PI – needed for some research projects with access to additional screens for patient surgical, family, and social history. Typically requires a combination of CBLs and classroom training.
AMB/IP Medical Student – typically needed by new Med 3 students to write notes and pending orders. Typically requires a combination of CBLs and multiple hours of classroom training.
Each role requires a "supervisor" to approve the access – please allow for a couple of business days. In some cases, a single student may require multiple roles. A screen shot of the online access form with annotations can be expanded in most browsers.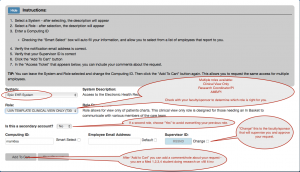 Users may have to electronically sign a "user agreement" the first time requesting a role and can use the online access request for to do so. Return to the online access request form and click on "User Agreement" to see if any are required for your request.
---
There is a dedicated sub team within HSTS Help Desk for Epic access requests and they can be reached via the following:
Phone: 434-924-5334
Installing and using EPIC