NBME Workstation Certification
The NBME subject examinations are administered using a secure browser that you install on your laptop. On the day of the examination, you should download the latest version of the secure browser to take the test.
Before the examination you can use features within the secure browser to certify your personal laptop as suitable for the examination.
Confirm that your laptop is NBME certified – before the examination
(1) Shutdown/Restart/Reboot your laptop – Really! Recently run applications do NOT always clean up themselves after being closed and tend to leave processes running in memory. Some of these processes could be flagged by the NBME browser.
(2) On the Mac platform, your system preferences must be set to allow for the download of applications (NBME secure browser) from "Anywhere": Apple menu | System Preferences | Security & Privacy | General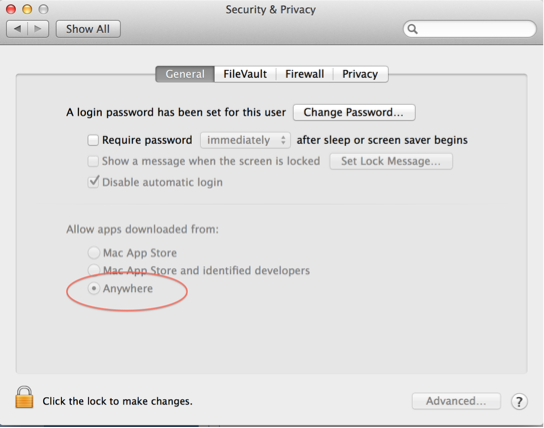 (4) Run the secure browser.  Use the "Workstation Certification" and subsequent "Examinee Personal Laptop Certification" links to verify that your laptop will suffice for the examination.


If you get through the sample test, your laptop passes the NBME Subject Examination requirements. Be aware that the NBME does limit the number of times that you can run the certification utility (3 times in 28 days). Should you receive a "You have exceeded the allowed number of attempts" message, you can contact a Med Ed Technology staff member to assist. They can use the "Technical Support Staff Certification" link without the restriction for number of attempts.
Should your laptop fail certification, you likely have a screen capture or recording feature that needs to be disabled. This is best done with the help of a Med Ed Technology staff member. Please make arrangements to meet with them before the exam – they will have additional tools available to diagnose the problem. They are best reached via email to mededweb@virginia.edu.