Email After Graduation
Once you graduate from the School of Medicine, you will no longer have access to your Health System email account (hscmail). However, as UVA alumni, you will still have access to your UVA gmail account. If you've been automatically forwarding your UVA gmail account to your hscmail, now is the time to split again. Here's how.
Go to the Email Address Management website
Click "Manage Aliases"
Make sure you highlight "virginia.edu" in the top box (see red arrow) and then click "Select"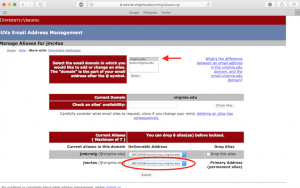 In the bottom block, the "Deliverable Address" will be set to your Health System email. Change the drop down to "Virginia Google Email" and click Submit.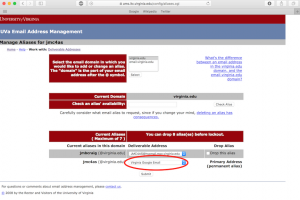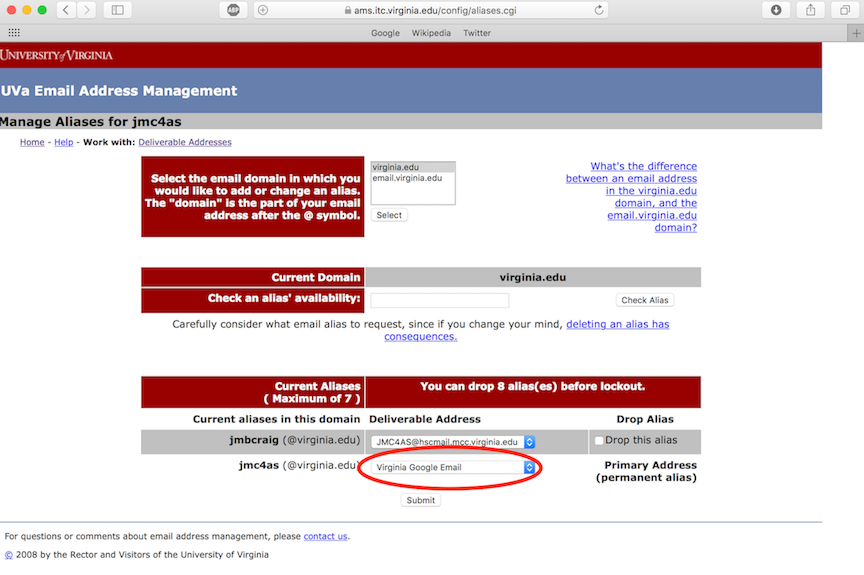 If you have particular email messages in your hscmail account that you'd like to save (and these messages do not contain PHI), go ahead and forward them individually to your UVA gmail (or another personal account).
Additionally, you might want to export your contacts from your hscmail account  to a spreadsheet for future use. You'll need to log in to a Health System computer (Health System Library is a good place to find one) and run the full version of the Outlook Email client.
Should you want to do something more complicated, you'll find more address management documentation from UVA's central IT group.
If you have questions, contact us at mededweb@virginia.edu or find us in person in the Learning Studio, the Auditorium or the ground floor of the HSL.