Presenter: Volker Kiessling, PhD
Lab: Tamm Lab
Research-in-progress seminars.  Research-in-progress seminars will be held on the second and fourth Thursday of every month at 4 PM in 314 Snyder.  Pizza and drinks will be provided by the Center and will be available starting at 3:45 PM.  To enable as many labs from the Center as possible to participate, we will be scheduling two 20-min talks per session.  Ten minutes will be allotted for questions and discussion for each talk.  Talks from students and postdocs are especially encouraged, but talks from PIs are welcomed as well.   Slots for talks are available on a first-come first-serve basis.
Dr. Anne Kenworthy, Associate Director, Center for Membrane and Cell Physiology

Dates: Thursday, November 8, 2018 - Thursday, November 8, 2018
Time: 4:00 PM - 5:00 PM
Location: Snyder Building, 314
[Event Details...]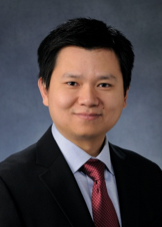 Yong Zeng, PhD, Department of Chemistry, University of Kansas
Host: Dr. Huiwang Ai
Dr. Zeng currently is an Associate Professor at the University of Kansas in the Department of Chemistry, the Bioengineering Graduate Program, and KU Cancer Center.  He received his Ph.D. in Chemistry from the University of Alberta, Canada with Jed Harrison in 2007.  His postdoctoral research with Richard Mathies at the University of California, Berkeley was focused on single cell analysis of early-stage carcinogenic mutations in blood cancer.  Dr. Zeng joined KU as assistant professor of chemistry in 2012.  Working at the interface of chemistry and biology, a primary aim of his research is to develop new enabling tools for liquid biopsy-based cancer diagnosis and precision medicine.  Dr. Zeng is also interested in translational research to move technology innovations from laboratory benchtop into clinical practices to facilitate the advance of human health.  He received the J.R. & Inez Jay Award in 2014, and was named as prestigious Docking Family Faculty Scholar in 2017.  His research has been supported by a number of grants from National Institute of Health (NIH) and other funding agencies.

Dates: Monday, November 26, 2018 - Monday, November 26, 2018
Time: 4:00 PM - 5:00 PM
Location: Somlyo Conference Room, Pinn 4025
[Event Details...]