Joy Lerner, MD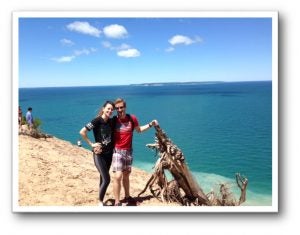 Undergraduate: University of Michigan
Medical School: Michigan State University
Interests: Painting, wine touring, Game of Thrones, whitewater kayaking, exploring new hiking trails, and re-creating foods I find on Pinterest.
Welcome, and thank you for your interest in Child Neurology! I grew up in America's High Five, but the hardest part about moving to Virginia is getting used to the fact that I no longer have a handy map on the end of my arm. The transition to residency is a lot easier when you are surrounded by amazing people.
The enthusiasm for teaching by both faculty and residents is one of the greatest strengths of this program.
By training here you will have no shortage of experience with common or rare conditions, and you will become an expert in how to manage your patients with compassion as you develop strong communication skills.
Charlottesville has been a fun place to live too! I'm a bit of a foodie, and whether I'm looking for tapas on a rooftop patio overlooking the mountains or an on-the-go breakfast from the local hole in the wall creperie, this town does not disappoint. The squash blossoms at Mas Tapas are a personal favorite, and you can't beat the brunch specials at Cafe Caturra. Come check it out to see for yourself! I can't wait to meet you this interview season!