Rachel Crim, MD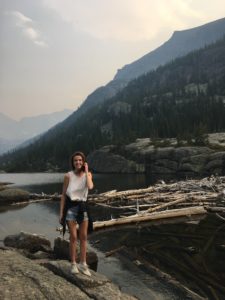 Undergraduate: University of Mississippi
Medical School: University of Mississippi School of Medicine
Interests: Crafts, hiking, and yoga
Hi all! I'm so glad you're interested in child neurology at UVA. The department here is really special and Charlottesville is an incredible town. Neurology has fascinated me for as long as I've wanted to be a physician. It wasn't until my first day on my M3 peds clerkship that I knew (immediately!) that I had to work with kids. Not only are the patients cuter and the hospitals better decorated, but the privilege of serving both patient and family is one I cherish. Child neuro presents this unique opportunity to care for the really complex, intellectually challenging patients with some as-yet undiscovered disease as well as the thriving teen you see every few months for headaches while she gives you fashion advice.
No matter where our kiddos fall on that spectrum, we get to learn and to stand in awe of what the brain can do.
I was born and raised in Jackson, Mississippi and attended the University of Mississippi. After obtaining my degree in physics, I wanted to see how life was outside state lines, so I took a year to work as—of all things—a pharma rep in Knoxville, TN. I loved Knoxville, and I knew residency would be the perfect chance to live somewhere with similar opportunities for both outdoor and cultural activities once I finished medical school.
Leaving home was a challenge made much easier by the fact that I knew an extremely supportive community awaited me in Virginia. During my interview, the sense of camaraderie among residents and attendings was immediately apparent. Initially I was intimidated by the program's academic success, but what I quickly learned was that this was the result of a "we're all learning together" culture, which was exactly the type of atmosphere in which I wanted to train.
Both UVA and Charlottesville have so much to offer, and I hope you fall in love with the area as much as I have! Please don't hesitate to reach out if you have questions. Looking forward to meeting y'all!