Neurology Diversity Committee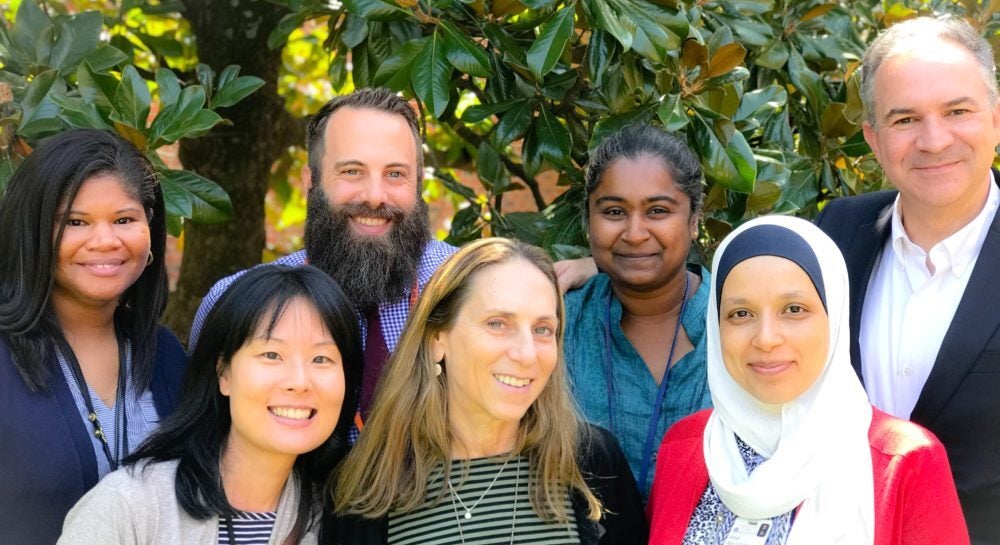 Front row: Joyce Suh, Ph.D. (Pediatric Neuropsychology); Carol Manning, Ph.D. (Adult Neuropsychology); Amal Abu Libdeh, M.D. (Pediatric Movement Disorders).  Back row: Sherita Chapman, M.D. (Vascular Neurology); Scott Sperling, Psy.D. (Adult Neuropsychology); Meena Kannan, M.D., M.P.H. (Neuroimmunology); Javier Provencio, M.D. (Neurocritical Care). Not pictured: Suchitra Joshi, Ph.D.
Our Mission
Our mission is to cultivate an environment where individuals of diverse race, ethnicity, culture, sexual orientation, gender identity, religion, age and physical ability may succeed professionally and personally.
What We Do
Promote recruitment and retention of faculty, residents and fellows diverse in gender, ethnicity and experiences
Facilitate access to mentoring networks and professional development programs for under-represented groups
Meet monthly
Ensure diverse speakers and speakers who present on diversity
Have a diversity committee member at each resident interview day
Respond to diversity questions (diversityneurology@virginia.edu)
Welcome new members on the diversity steering committee
List of Prior Neurology Grand Rounds on Diversity, Inclusion, or Healthcare Disparities Topics and Invited Guest Lecturers by the Department Diversity Committee
Microglia-Immigrants orchestrating brain development and resolving brain pathology by Dr. Ukpong Eyo | Juneteeth Speaker 2020
Reducing Disparities in Healthcare: Caring for Refugees in Charlottesville by Dr. Fern Hauck | Feb 2020
Multicultural Assessment in Neuropsychology by Dr. Ivorie Walker | Dec 2019
Multiple Sclerosis among Minority Populations in the U.S. by Dr. Meena Kannan | June 2019
Towards Using Neuromodulation to Treat Drug Addiction by Dr. Khaled Moussawi | Aug 2019
Spinal Muscular Atrophy: A Clinical & Research Update by Dr. Basil Darras | May 2019
Women's Topics in Neurology by Dr. Allison Crowell | April 2019
Islam and Health Issues by Dr. Amal Abu Libdeh | Mar 2019
Translational Research in Leukodystrophies by Dr S. Ali Fatemi | Mar 2019
Developing Neurological Care & Training in Zambia by Dr. Deanna Saylor | Feb 2019
Resilience in Health Care: The Importance of Mattering by Dr. Julia Haizlip | Jan 2019
Development in Infants from the Slums of Dhaka by Dr. William Petri | Sept 2018
Brain Death Declaration: A Potential Crisis of Diagnosis by Dr. Galen Henderson | July 2018
A Leader in LGBTQ Healthcare Equality
In 2018, one of our adult neurology residents, Derek Pyland, started an annual tradition of discussing pronouns usage with the residency program to celebrate International Pronoun Day.
In 2019, UVA Health earned 100 points on the Human Rights Campaign's Healthcare Equality Index continuing designation as a Leader in LGBTQ Healthcare Equality. The Leader designation signals a strong commitment to LGBTQ equity and inclusion which our department also supports. See how we earned the HEI award in 2018.

UVA GME passionately believes that a diverse housestaff encourages empathy and compassion within the hospital as well as the greater Charlottesville community. We seek a racially, ethnically, and gender diverse intern class for 2021. If this is important to your understanding of and interest in UVA, please let us know if you would like to be connected to current Neurology housestaff and faculty eager to discuss diversity and inclusion with you.