Jeremy Tuttle, Ph.D.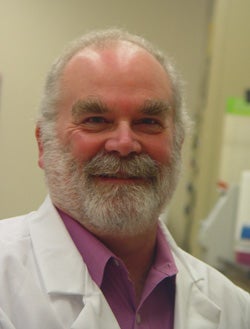 tuttle@virginia.edu
Professor of Neuroscience
Professor of Research in Urology
Ph.D., 1977, Johns Hopkins University School of Medicine
NEUROTROPHINS IN HEALTH AND DISEASE
Trophic interactions and factors are necessary for the survival and normal function of all synaptic partners, whether they are nerve-nerve , nerve-muscle or others. However, knowledge of the cellular regulation of synthesis of trophic factors is sparse and an understanding of their role in aging or disease is limited.
One area of research investigates the relationships between gene expression, neurotrophin production, cytosolic Ca2+, disease-associated mitochondrial defects and apoptotic cell death. Using both primary neuronal cultures and established neural cell lines, as well as mitochondrial DNA from patients afflicted with Parkinson's Disease, Alzheimer's Disease and other degenerative syndromes, this work details the impact of disease-related mitochondria on gene expression, signal transduction and neurotrophin regulation.
A second area of research involves the regulation of the micturition circuits and the role of neurotrophic factors in urological disease. This work is conducted with the Department of Urology and uses whole animal behavior, cell culture and electrophysiological approaches. This includes investigation of the basis of dementia related voiding dysfunction and the impact of commonly used medications on disease progression.
Funding has been from the National Institutes of Health (National Institute of Diabetes and Digestive and Kidney Diseases, National Institute of Neurological Diseases and Stroke, National Institute on Aging), private foundations and by cooperative agreements with industry.
Selected Publications:

Onyango IG, Tuttle JB, and Bennett JP. Activation of p38 and N-acetyl cysteine sensitive c-Jun NH2-terminal kinase signaling cascades is required for induction of apoptosis in Parkinson's disease cybrids. Mol Cellular Neurosci, 28: 452-461, 2005.
Onyango IG, Bennett JP, and Tuttle JB. Endogenous oxidative stress in sporadic Alzheimer's disease neuronal cybrids reduces viability by increasing apoptosis through pro-death signaling pathways and is mimicked by oxidant exposure of control cybrids. Neurobiol of Disease 19: 312-322, 2005.
Onyango IG, Tuttle JB, and Bennett JP. Brain derived growth factor and glial cell line-derived growth factor have different survival promoting effects and use distinct iontracellular signaling pathways to protect PD cybrids from H2O2 induced apoptotic death. Neurobiology of Disease, 20:141-154, 2005.
Batts TW, Klausner AP, Jin Z, Meeks MK, Ripley ML, Yang S-K,Tuttle JB, Steers WD, and Rembold CM. Increased expression of heat shock protein 20 and decreased contractile stress in obstructed rat bladder J Urol 176: 1675-1684 2006.
Boyette LB, Reardon MA, Mirelman AJ, Kirkley TD, Lysiak JJ, Tuttle JB, and Steers WD. Fiber Optic Imaging of Cavernous Nerves In Vivo J Urol 178: 2694-2700, 2007.
Lysiak JJ, Yang SK, Klausner AP, Son H, Tuttle JB, Steers WD. Tadalafil increases Akt and extracellular signal-regulated kinase ½ activation, and prevents apoptotic cell death in the penis following denervation. J Urol 179:779-785, 2008.
Klausner AP, Sharma, S, Fletcher S, Neff P, Yang S-K, Son H, Tuttle JB, and Steers WD. Does oxybutinin alter plaques, amyloid beta peptides, and behavior in a mouse model of Alzheimer's disease? J Urol 179: 1173-1177, 2008.
Tuttle JB. Guest editorial: New tools to study bladder dysfunction. J Urol, 183:423-4, 2010 Feb.
Lee K-C,  Sharma S,  Tuttle JB, and Steers WD. Origin and characterization of retrogradely labeled neurons supplying the rat distal urethra using fiberoptic confocal fluorescent microscopy in vivo and immunohistochemistry  JUrol 184: 1550-1554, 2010.