Neuro Trauma
Trauma Center
The University of Virginia Medical Center serves as a trauma center for hospitals hundreds of miles away — Head and spine injury cases come to us by our Pegasus helicopter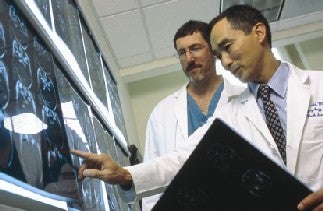 The University of Virginia Health System is a Level I Trauma Center serving a large geographic area with a population base of about 800,000 in central Virginia. No other provider of tertiary critical care serves this large region. Thus, a large number of patients with traumatic brain injury (TBI) are cared for in our hospital.
UVa is also the destination for patients transferred from hospitals hundreds of miles away in both Virginia and West Virginia. Patients with brain trauma and spinal cord injuries arrive from these hospitals in our emergency helicopter (Pegasus).
Highly efficient care and high survival rates in our intensive care units placed us in the top three of 37 hospitals in a recent evaluation of patient services by the University Hospitals Consortium. UVa earned this honor for excellence in 13 categories, including excellence in neuro-critical care. Our neurosurgeons perform large numbers of emergency craniotomies and emergency and elective back procedures each year. Patients begin their recovery in the Nerancy Neuro Intensive Care Unit (an ICU dedicated to caring for critical patients recovering from neurological trauma and surgery) or in the Spine Unit (an intermediate care unit designed and staffed to care for patients with acute spine or spinal cord injuries.)
Medical treatment for brain injuries is changing rapidly as physicians learn more about the science of repair and recovery. Our physicians perform cutting-edge research that often translates into new treatments. When patients with a traumatic brain injury (TBI) come to UVa, they are treated by an extensive team of specialists who bring the very latest research findings to the operating room and recovery process.
These specialists are members of the UVa TBI Network, which includes multidisciplinary programs in Neurological Surgery, Trauma, Emergency Medicine, Critical Care Medicine, Physical Medicine & Rehabilitation, Neuropsychology and Neurology.
Learn about the UVA TBI Network and how a patient is cared for in its TBI Continuum of Care, from their first contact with emergency personnel through recovery and re-integration into the community.
Meeting special needs
Patients and families of patients undergoing surgery may be under substantial stress and need additional assistance. See UVA's Patient Information page to learn about all the patient and guest services available to make your stay as comfortable as possible.
Contact