Minimally Invasive Gynecologic Surgery (MIGS)
Minimally Invasive, Personalized Treatment

Minimally invasive surgical procedures are associated with significantly less blood loss during surgery, less scarring, less postoperative pain and faster recovery than traditional open surgery. This allows patients to recover faster and return to their lives and daily activities with improved quality of life.
We highly encourage you to explore the MIS for Women website to learn more about minimally invasive surgery (MIS) which is a service of the American Association of Gynecologic Laparoscopists http://www.misforwomen.com 
What We Treat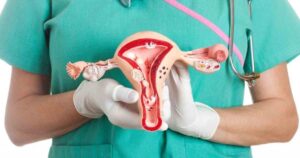 Depending on your personal history and symptoms, our expert physicians may recommend one or a combination of minimally invasive treatments to address your individual condition. The MIGS Center team treats gynecologic conditions including:
Bleeding issues, including abnormal bleeding, heavy or abnormal periods (menorrhagia), and peri- or post-menopausal bleeding
Cervical or endometrial polyps
Uterine fibroids
Endometriosis
Adenomyosis
Mild to severe endometriosis
Painful period cramps(dysmenorrhea)
Pelvic pain and pelvic inflammatory disease (PID)
Pelvic scar tissue (adhesions)
Ovarian cysts and pelvic masses
Simple or complex ovarian cysts
Pelvic congestion syndrome
Teratomas/dermoids
Tubo-ovarian abscess
Ectopic pregnancy
Essure removal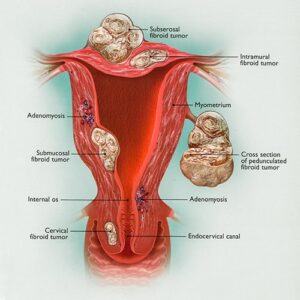 Innovative Treatment Options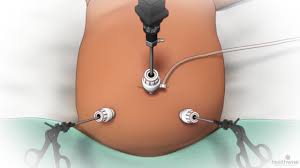 Your doctor will talk with you about a range of innovative treatment options and develop an individualized treatment plan that may involve one of these minimally invasive gynecologic approaches:
Hysteroscopic surgery: This technique does not require any incisions and has minimal recovery time.
Laparoscopic surgery: This technique has been shown to be an effective treatment that results in shorter hospital stays, less discomfort and a shorter recovery period than traditional surgery.
Robotic surgery: This approach has the same advantages as advanced laparoscopy, but uses the DaVinci robot to the maneuver the instruments while the surgeon operates the robot from a console.
Our Doctors
Frequently Asked Questions About MIGS
Minimally invasive surgery limits the size of incisions made for surgery, which sets it apart from traditional "open surgery". There are three main types of minimally invasive surgery:
Hysteroscopic procedures: a long, thin telescope-like instrument (called a hysteroscope) with a small video camera attached to the end is inserted through the vagina and cervix into the inside of the uterus. This gives the doctor a magnified view of the uterus on a video monitor. Small surgical instruments can also be inserted through the hysteroscope to perform the procedure
Laparoscopic procedures: video-guided surgery. Instead of making a large incision through the skin and underlying muscles, a laparoscopic procedure requires four small incisions: one for a long, narrow telescope with a camera attached, and three others for the instruments needed to perform a procedure.
Robotic procedures: video-guided surgery using a tool called the DaVinci Surgical System. It is similar to a traditional laparoscopic procedure in that the surgeon makes three to four small incisions: one for a magnified, high-definition 3-D camera that guides the surgeon during the procedure, and two or three others for the robotic instruments that allow the surgeon maximum range of motion and surgical precision. It differs from a traditional laparoscopic procedure in that the surgeon controls the instruments and the camera from a console located next to the patient in the operating room.
Yes. This type of surgery has been performed at UVA for many years. Your physician will determine based on your specific needs whether a robotic-assisted approach may be useful in your care.
There are many benefits to choosing minimally invasive surgery over traditional surgery. Because it requires only tiny incisions, minimally invasive surgery results in less trauma to the body and faster recovery compared to a large open incision. In fact, the method of choice for surgeons and patients has shifted from traditional "open surgery" to less invasive means. This is good news for patients and surgeons as it often means that patients who choose minimally invasive surgery recover faster and frequently experience:
Shorter hospital stays
Less pain after surgery
Less scarring
Faster return to work and normal activities
Reduced costs to the healthcare system and patients
The exact number of incisions will depend on the specifics of your surgery. Generally, there are anywhere from three to five small incisions (usually around 1 cm across).
While the time and experience of recovery is different for every patient, in general recovery from minimally invasive surgery is much smoother than open surgery. Most patients find that they have moderate pain. You likely won't be able to exercise for a few weeks, but many patients are able to resume their normal activities around two to four weeks post-surgery.
Recovery varies from patient to patient, but most patients are able to go home the same day, a few hours after their surgery is completed.
The MIGS Center at UVA takes a multidisciplinary approach to patient care. Our expert team of surgeons collaborates to identify the best procedure for each patient and provide the best surgical care for each patient's unique health concerns.
Your care team at UVA will include physicians, residents, medical students, anesthesiologists, nurses, social workers and other clinical staff. One advantage of receiving care at UVA is you'll also have access to the full resources of the hospital treatment programs in addition to your physician and surgical team.
All of our surgeons are certified in obstetrics and gynecology, along with their respective sub-specialties, and have advanced training.
It's important to come prepared for your appointment to get the most out of it.
Gather your records: bringing all the records related to the care you have received in the past will help your doctor understand you and your condition. You can bring hard copies, but we prefer if you have these sent to our clinic beforehand.
NOTE: It is important to bring any imaging studies or lab results with you or have them sent before your visit, so they can be reviewed by the physician before your appointment.
Make a list of questions: your initial consult can be a little overwhelming, so take time beforehand to think about what questions you'd like to ask the doctor about your condition, surgery and recovery.
Call 434-243-4720 to make an appointment for a consultation.
Information and Appointment
For information and appointment please contact Midlife Health and Gynecologic Subspecialties Center.
UVA Northridge Medical Park
2955 Ivy Rd., Suite 104
Charlottesville, VA 22903
(434) 243-4720