Apply to the Residency
Thank you for your interest in the Obstetrics and Gynecology program at UVA.
The School of Medicine at the University of Virginia passionately believes that a diverse housestaff encourages empathy and compassion within the hospital and well as the greater Charlottesville community.
We are committed to providing residents with the environment and mentoring that will foster the development of outstanding clinicians, researchers, and future leaders in medicine. Please view the video the GME Housestaff has created.
Residency applications will only be accepted through ERAS. Scheduling will be done through ERAS. The University of Virginia sponsors a J-1 visa to be considered so international medical school graduates must be eligible for ECFMG certification prior to matriculation and demonstrate spoken and written English proficiency.
We invite applications from graduates of osteopathic medical schools as well as international medical schools. Please note the following additional requirements: All applicants must follow the USMLE examination pathway, including D.O. candidates.
The deadline to apply is October 1st, no applications will be accepted after this date.
We look forward to hearing from you.
Application materials
All applications must include the following items:
ERAS Common Application Medical School Transcript USMLE Transcript – we will consider all scores above 215 passed on the first attempt, but Step 2 scores are NOT required to obtain an interview
3 letters of recommendation, at least two of which are OB/GYN faculty members at your School of Medicine
Personal statement
The Medical School Performance Evaluation ("Dean's Letter") is sent to the residency programs via ERAS
Interview Process
We receive over 700 applications and typically interview approximately 65-75 candidates, in November and December. There are 4 interview days per year. The night before each interview day, our residents will hold a virtual gathering for the candidates.
The University of Virginia Ob/Gyn Residency program fully supports the joint CREOG/APGO proposal for residency application standards.
We will adhere to the following timeline for the 2021 application cycle:
Final application deadline: October 1, 2020. Any application received after this date will not be reviewed.
Interview Offers will be released on: October 19, 2021. (rolling offers to follow if spaces remain available)
Final notification date regarding application status: no later than November 19, 2021.
Our residency program will offer 72 interviews this year. All interviews will be virtual. We have always limited the number of invitations to the total number of interview slots. We will offer waitlist slots for each of our interview dates in the event of cancellations.
2021-22 Interview dates will be:
Saturday, November 6th
Wednesday, November 10th
Saturday, December 4th
Wednesday, December 8th
During the interview day, candidates meet with several of our faculty members, including the Program Director and Chair, Leigh Cantrell, MD the Associate Program Directors, Laura Parsons, MD and Rebecca Rieck, MD, and Vice-Chair of Education, Chris Chisholm, MD. You will also interview with our residents. A residency program overview and a virtual tour of the hospital facilities will also be a part of the interview day.
8:45-8:55 AM – Applicants sign into Zoom
9:00-10:00 AM – Program Overview
10:00-10:15 AM – Break
10:15–12:15 PM – Interviews/Residents
12:20 PM – Closing Remarks
Our program is indexed on the AMA's Fellowship and Residency Electronic Interactive Database (FRIEDA). Detailed information about the program is found in the Residency Program section of our website.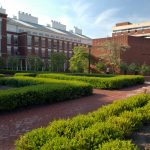 As a resident, you are an employee of the House Staff of the University of Virginia. For information about housestaff, salaries, benefits, and conditions of employment see the Graduate Medical Education site.
Graduate Medical Education Office will be hosting the 4th Annual Trainee Diversity and Inclusion Conference on Saturday, February 12th from 11am-5pm.  More information will be forthcoming. You can find information on previous Diversity and Inclusion Conferences by visiting Diversity & Inclusion – Graduate Medical Education (virginia.edu)
For information about life in Charlottesville, visit the City of Charlottesville site or our Life in Charlottesville page. Elsewhere at UVA, the Law School guide to Living in Charlottesville has recommendations for both newcomers and long-term residents. For comprehensive information about nonprofit organizations in Central Virginia, visit Monticello Avenue.
The University of Virginia is an Equal Opportunity/Affirmative Action Employer.
Contact Us
Email Residency Coordinator, Tammy Lull or call 434-924-9930.