2020 Faculty Research Retreat
The School of Medicine will hold a faculty research retreat on February 7 – 8, 2020 at the Board Head Inn Pavilion.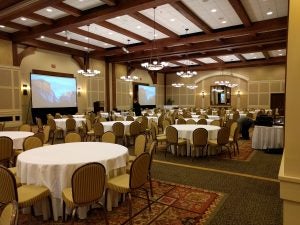 The event will include concurrent presentations on an array of research topics of interest to SOM faculty. The schedule will include ample opportunity for building research connections, during the structured sessions, lunchtime roundtable sessions, and informal late afternoon receptions including a new "Shark Tank"-style funding exercise.
On Friday, the registration table will be staffed starting at 2:00 p.m.; scientific sessions will run from 3:00 to 7:00. On Saturday, breakfast will begin at 7:30 a.m. and scientific sessions will run from 8:00 a.m. to 6:00 p.m.
REGISTRATION:
Please use this form to register for the retreat.  Your registration will allow us to plan for meals and our evening receptions.
REGISTRATION DEADLINE:  JANUARY 10, 2020
If you register for the retreat and later must cancel your attendance, please e-mail ddriscoll@virginia.edu. Thank you.
— SOM Office for Research