CSB RFP Development Process
Community Services Boards (CSBs) are responsible for delivering community-based behavioral health services to every city and county throughout the state of Virginia.
The Consortium supports Community Service Boards, responds to their needs, and empowers local health agencies and leaders in shaping the best approaches to prevent, treat and manage opioid and other substance use disorders in their communities.
The RFP application period has closed for the current funding cycle (through 9.30.20)
The VHEOC can help CSBs with any activity or program that is congruent with the scope of the State Opioid Response grant, current SAMSHA funding priorities, and VDBHDS guidance. This includes technical support for services in prevention, treatment and recovery, and identification, collection, and analysis of data to enhance decision making related to substance use disorders, including opioids.
Seeking assistance and developing Requests For Proposals (RFPs)
There are processes in place for defining, developing and seeking assistance from VHEOC which enable CSBs to receive the most relevant help possible to tackle the opioid crisis. The graphic below shows the steps of the process as defined by VHEOC.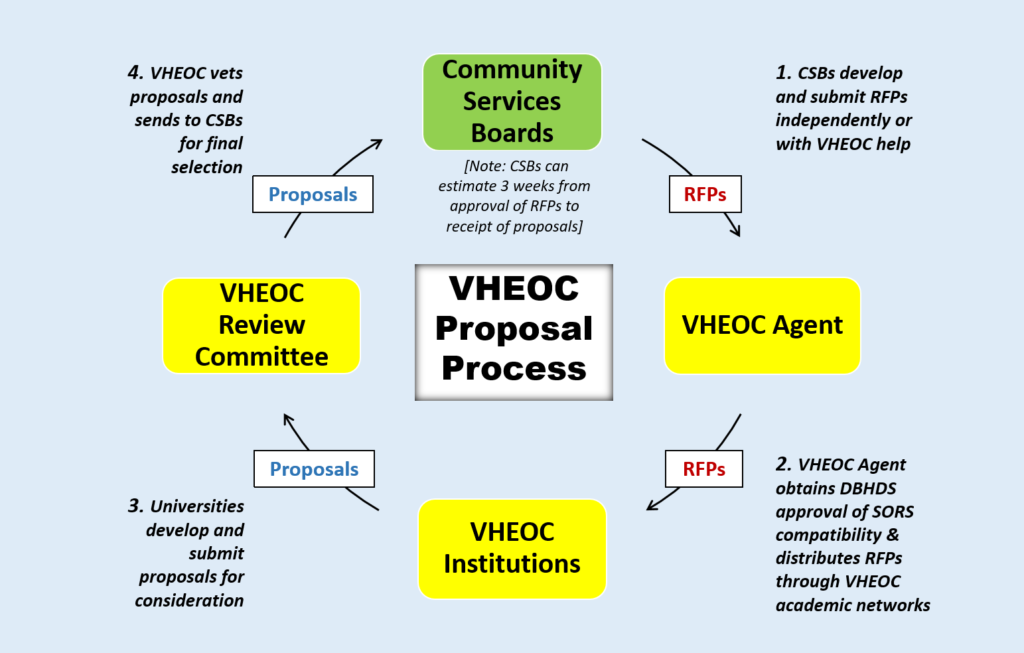 Regional VHEOC liaisons can guide CSBs on accessing services from the Consortium. They will host meetings to identify and discuss local needs and priorities and will provide technical assistance to CSBs, as needed, in developing Requests for Proposals (RFPs), which are the key to requesting university services through VHEOC. Download the RFP template to get started.
For more information: Contact VHEOC Project Manager at: VHEOC@virginia.edu.