Craig A. Reigel, MD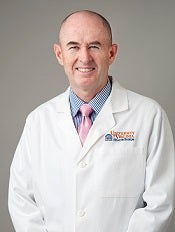 Craig A. Reigel, MD, is an orthopedic surgeon at Novant Health UVA Health Culpeper Medical Center and the chair of the UVA Department of Surgery.
Dr. Reigel graduated cum laude from the Medical College of Pennsylvania in Philadelphia. He went on to complete his residency training at Allegheny General Hospital in Pittsburgh, followed by a sports medicine fellowship at Thomas Jefferson University in Philadelphia.
He is a member of the American Academy of Orthopaedic Surgeons, the American Board of Orthopaedic Surgery, and the American Osteopathic Association.
Beyond Orthopaedics
"Outside of work, Reigel enjoys spending time outside mountain biking, kayaking and playing tennis."
Contact
Clinic Location:
UVA Orthopedics
Novant Health UVA Health System Culpeper Medical Center
541 Sunset Lane, Suite 305
Culpeper, VA 22701
Mailing Address:
Department of Orthopaedic Surgery
PO Box 800159
Charlottesville, VA 22908
Specialty and Subspecialty
Specialty: Orthopaedic Surgery
Subspecialty: Sports Medicine
Education:
Primary: The Medical College of Pennsylvania (now Drexel University College of Medicine)
Residency: Allegheny General Hospital Bronx-Lebanon Hospita
Fellowships: Thomas Jefferson University
Certification and Licensure
Board Eligible in Orthopaedic Surgery, Virginia.