Joseph Hart, Ph.D.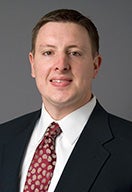 Joseph M. Hart, PhD, ATC is a professor of orthopaedic research at the University of Virginia, Department of Orthopaedic Surgery.  Dr. Hart also has an academic appointment in the Curry School of Education where he teaches and mentors graduate students in the Sports Medicine and  Athletic Training Program.  Dr. Hart earned his BS degree in Sports Medicine from Marietta College, MS in Athletic Training from West Virginia University and a PhD in Sports Medicine from the University of Virginia. Dr. Hart has been a certified and Licensed athletic trainer since 1997 with experience at the high school level, college, professional sports and clinic settings. Dr. Hart's research focus is in the area of neuromuscular consequences of joint injury, in particular neuromuscular factors that contribute to the progression of osteoarthritis following ACL reconstruction and factors that contribute to the low back pain recurrence.
Beyond Orthopaedics
"I enjoy spending time with my family and traveling.  I am involved with community adult recreation leagues for softball and baseball."
Contact
Office Location:
Fontaine Research Park,
Building 400, Suite 330
Memorial Gymnasium

210 Emmet Street North
, #205
Mailing Address:
400 Ray C. Hunt Drive,
Suite 330

PO Box 800159

Charlottesville VA
22908
Office Phone: 434.243.0256
Office Fax: 434.243.5387
Email:
Jmh3zf@virginia.edu
Appointments
Professor, Orthopaedic Surgery, School of Medicine
Kinesiology (Human Services),  Curry School of Education
Specialty and Subspecialty
Specialty: Orthopaedics
Subspecialty: Sports Medicine and Athletic Training
Certification
NATABOC certified Athletic Trainer (VAT-L)
Research Description
The nearly ubiquitous incidence of early-onset osteoarthritis in the post-traumatic knee makes research in this patient group exciting and challenging.  Among the many contributing factors are exercise-related neuromuscular changes in the presence of muscle dysfunction.  I have investigated the effects of gender, core instability and previous joint injury on quadriceps muscle function, balance and neuromuscular performance during activities.  Therefore, my research will continue to focus on basic science (including animal models), translational and clinical trials research to provide the best evidence based treatments for active persons who are at risk for knee injury, re-injury and degeneration.
Clinical Trials
1. Quadriceps function prior to anterior cruciate ligament reconstruction," (IRB #13398, Principal Investigator: Hart)
2. Improving quadriceps function following ACL reconstruction surgery (IRB 13010: Principal Investigator: Hart)
3. Prospective, randomized, double blind evaluation of the efficacy of a single dose of Synvisc-One® (6.0 cc) for the treatment of patellofemoral chondromalacia. (Principal Investigator: Hart-Diduch)