I am an Alumni and/or a Friend of UVa Orthopaedics

See below for instructions on how to Contribute Your Gift
Contact Brent Percival for Information
Phone: 434.924.0289
Email: brentp@virginia.edu
Grateful Alumni
and Friends Program
"How can I say 'Thank You' to those people who made a difference while I was in the Hospital?"
The Department of Orthopaedic Surgery is striving to maintain the Excellence in Research, Education and Patient Care that we have provided over the years.  We hope that you might appreciate our mission to provide the best possible resources to our Training Program, Residents and Care to our Patients.  As Alumni and Friends, we ask that you consider any means to fortify our goals.  Our efforts lead to our future successes and to maintain our Standards in Excellence.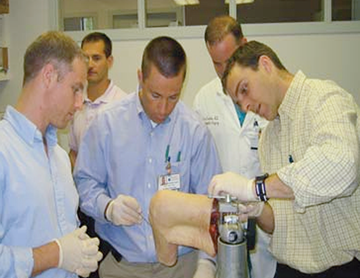 Help Our Research and Make a Difference!
The UVa Orthopaedic Research Fund has been established to support our Orthopaedic Scientists to continue ground breaking Research, provide the Highest Quality Patient Care and educate tomorrow's leaders in Orthopaedic Surgery.
Live, Love, Give!
Help Our Research
and
Make a Difference!
CONTRIBUTING
Click below to redirect to an online form you can use to contribute. PLEASE NOTE: Choose "Other" and under "Special Instructions" name the area you wish to contribute to ("Orthopaedic Research Fund", "McCue Education Fund", "Orthopaedic Surgery", etc.)
Click Here to Contribute Your Gift
Contact Brent Percival for Information
Phone: 434.924.0289
Email: brentp@virginia.edu