Stephen V. Early, M.D.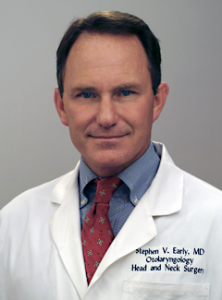 Stephen V. Early, M.D.
Director
Pediatric Otolaryngology
Stephen V. Early, MD is an Associate Professor of Otolaryngology at the University of Virginia. He attended Bridgewater College in the Shenandoah Valley for his undergraduate education. Dr. Early received his medical education at the University of Virginia and he continued here for his residency. During that time, he was involved in the honor systems and leadership.
Dr. Early was in private practice in Orlando for 12 years before returning to the Department of Otolaryngology Head & Neck Surgery at UVA. His practice in Florida involved pediatric otolaryngology, skull base and pituitary surgery and resident education.
Since his return to the University of Virginia in 2001, he has served as Director of Pediatric Otolaryngology, and has been involved with resident and medical student education. He has been selected at baccalaureate services for the School of Medicine on two occasions.
Dr. Early was born in Bristol, Tennessee. He grew up in the mountain region of Tennessee and southwestern Virginia. Accordingly, he developed a love for the outdoors, which persists to this day. He is a hiker, backpacker, and fly fisherman. He also has an enduring love for the people of Virginia, and reaches out to the less advantaged.