Hyperbaric Oxygen (HBO) Service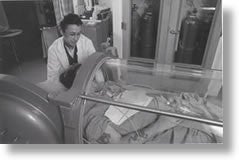 HBO is offered as a joint service of UVa's Department of Otolaryngology-Head & Neck Surgery and Department of Plastic Surgery. It involves placing a patient in a chamber and administering 100 percent oxygen at elevated pressures to assist in tissue healing.
The primary otolaryngologic uses for HBO are:
Treating complications from radiation therapy to the head and neck.
Managing the compromized flap or difficult wound due to inadequate blood supply.
Preparing patients for surgery in the head and neck who have received previous radiation therapy.
In addition, HBO can be used to treat diving accidents, aggressive
infections and radiation injury. Areas of investigation include early
management of stroke, heart attacks, refractory sinusitis and sudden hearing loss.
Faculty specialists include: