Contents
: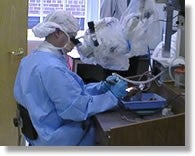 Head and Neck Cancer
OPTIMIZATION OF NON-SURGICAL THERAPY OF HEAD AND NECK CANCER
The Department of Otolaryngology and the Cancer Center are working together to improve the results of non-surgical therapies for patients with advanced head and neck cancers. Patients receive a novel treatment that allows the maximum radiation dose to be delivered to the cancer while lowering the doses to surrounding normal tissues. Researchers are also working to characterize the nature and clinical significance of genetic mutations and abnormal growth signals in the head and neck tumor cells and to discover new strategies for the treatment of these tumors.
Collaborators: Paul A. Levine, M.D.; Chris Thomas, M.D.; Paul Read, M.D.; James Reibel, M.D.
Successful outcomes in Otolaryngology-Head & Neck Surgery are in large part due to basic and translational research. We strive to identify and correct potential problem areas, establish state-of-the-art corrective surgeries and treatments, and bring the results of research to clinical environments as quickly as possible. Much of our research is involved in clinical trials.
GROWTH FACTOR-INDUCED RESISTANCE TO TARGETED THERAPY IN HEAD AND NECK CANCER
While new therapeutic agents targeting the epidermal growth factor receptor (EGFR) were expected to dramatically impact the treatment of patients with squamous cell carcinoma of the head and neck (SCCHN), they have been noted clinically to affect a very limited number of tumors. We have demonstrated that activation of the insulin-like growth factor-1 receptor (IGF1R) in SCCHN cell lines can overcome the growth inhibitory effect of the EGFR antagonists, restoring normal (or faster) growth. We are currently evaluating the mechanism of this compensation, it prevalence in human tumors, and the value of EGFR/IGF1R coinhibition.
Collaborators:  Mark Jameson, MD, PhD; Christopher Thomas, MD; Michael Weber, PhD
VALIDATING COMBINATIONS OF TARGETED THERAPEUTIC AGENTS IN HEAD AND NECK CANCER
Use of a single targeted inhibitor in squamous cell carcinoma of the head and neck (SCCHN) is likely to be insufficient due to compensatory growth signaling pathways that allow cancer cells to survive and grow during treatment. To identify these "resistance pathways," we are using high throughput screening techniques to identify two-inhibitor combinations that synergistically inhibit the growth of squamous carcinoma cells, thus identifying resistance pathways for each drug. This approach potentially identifies novel therapeutic combinations and signaling pathways that can predict tumor sensitivity to targeted inhibitors.
Collaborators: Dan Gioeli, PhD; Mark Jameson, MD, PhD
VALIDATION OF CANCER-TESTIS BIOMARKER CABYR IN SQUAMOUS CELL CARCINOMAS
Cancer-testis antigens are proteins noted uniquely in sperm development that are also found in some cancers. Because they are not expressed elsewhere in the body, they have potential to be exploited for diagnostic and therapeutic purposes. Preliminary reports have suggested that CABYR, a novel calcium-binding, phosphorylation-regulated sperm protein discovered and characterized at UVA, is expressed in a subset of head and neck cancers. We are currently evaluating the incidence of CABYR expression, its prognostic significance, and its biochemical role in tumor cell physiology.
Collaborators: John Herr, PhD; Henry Frierson, MD; Mark Jameson, MD, PhD; Christopher Moskaluk, MD, PhD
Back to top
Otology/Neurotology
UNILATERAL HEARING LOSS
Recent clinical studies have shown that unilateral hearing loss in children is a greater disability than previously appreciated. These children tend to repeat grades and have lower scholastic performance than children with binaural hearing. With the unique population of atresia patients seen at UVA, we are trying to uncover the disabilities associated with unilateral hearing loss. We know the two primary disabilities associated with hearing loss are hearing in noise and difficulty locating sound in space. We are enrolling patients with unilateral aural atresia in a study where we perform hearing in noise testing (HINT) and sound localization testing before and after surgery to correct their unilateral hearing loss. We hope to demonstrate an improvement in children's HINT and sound localization ability after surgery for unilateral aural atresia. We eventually hope to follow these children longitudinally to document performance in school.
Collaborators: Bradley Kesser, M.D.; Lincoln Gray, Ph.D. and Erika Cole, Au.D. candidate, James Madison University
EAR TUBE INSERTION DEVICE AND ANATOMIC MODEL
In collaboration with a faculty member from the Department of Biomedical Engineering (Shayn Peirce-Cottler), we have designed and are in the process of testing a medical device that will make placement of tympanostomy tubes safer, faster, and more reliable. We are currently in clinical trials, having tested the device in an anatomical model and an animal model (chinchilla). We are also developing the anatomic model into a tool to teach medical students, medical residents, and family medicine residents diagnostic and pneumatic otoscopy. The tool can also be used to teach myringotomy with tympanostomy tube insertion to OTO-HNS residents, as the model comes with anatomically correct ear canal dimensions, tympanic membrane and middle ear space that can be filled with various fluids to simulate otitis media with effusion.
Collaborators: Bradley Kesser, M.D.; Shayn Peirce-Cottler, Ph.D., Department of Biomedical Engineering
PEDIATRIC COCHLEAR IMPLANTATION
Our nationally known Cochlear Implant Program provides an opportunity to restore hearing for those who have been unable to benefit from hearing aids. Our researchers are examining audiologic performance and quality of live issues in the children we serve. Future research can potentially identify predictive factors of postoperative performance in these children.
Collaborators: George T. Hashisaki, M.D.; Chris Blincoe, M.Ed.; Margaret McBride, M.Ed.
Back to top
Plastic & Reconstructive Surgery
TISSUE ENGINEERED CARTILAGE
Researchers in the Department of Otolaryngology – Head & Neck Surgery are working to redefine the ideal implant for facial plastic surgery. Investigators are developing a technique for growing human cartilage in a predetermined and engineered shape that will satisfy the rigorous demands of clinical grafts, such as dependability, viability, and compatibility. These implants are made from a patients own cells and regrown into a specific shape for use in such places as the nose, ear and throat. This technique may prove to revolutionize the current methods of implantation and augmentation in the head and neck.
Collaborators: Stephen S. Park, M.D., FACS
Back to top
Chronic Sinusitis and Sinus Surgery
PHENOTYPICAL VARIATION OF CHRONIC SINUSITIS
Chronic sinusitis has been thought in the past to primarily be a result of obstruction and infection of the paranasal sinuses.  As research in to this field has progressed, it has become apparent that this is only one of many ways in which the sinuses can become persistently inflamed, leading to symptoms of congestion, facial pain or pressure, and generalized fatigue.  Researchers in the Department of Otolaryngology – Head & Neck Surgery in collaboration with the Division of Allergy & Immunology are analyzing the tissue removed at the time of sinus surgery in order to determine the different expressions that sinus disease may take in order to work towards more efficient diagnosis and treatment of the disease.
Collaborators: Spencer C. Payne, M.D.; Larry Borish, M.D. and John Steinke, Ph.D., Division of Allergy & Immunology
THE ROLE OF FUNGUS IN CHRONIC SINUSITIS
In certain forms of sinus disease, such as allergic fungal sinusitis and invasive fungal sinusitis, the role of fungus has been well documented and understood.  However, in the remainder of patients with sinus disease, it remains uncertain if fungus may play a role either as a main causative agent or serve as an exacerbating factor.  Preliminary data from other studies indicate that a certain number of people tend to see an improvement in their sinus disease with anti-fungal therapy.  Research in the Department of Otolaryngology is currently underway to investigate the role that certain antifungals may play in the modulation of sinus disease.  Eventually this data will be used to determine on which specific patients targeted antifungal therapy may optimize disease resolution.
Collaborators:  Spencer C. Payne, M.D.; Larry Borish, M.D. and John Steinke Ph.D., Division of Allergy & Immunology
Back to top
Pediatric Otolaryngology
PEDIATRIC SLEEP APNEA
Sleep disordered breathing affects quality of sleep, leads to difficulties with attention and concentration, and can lead to problems with growth in children. Research studies seek to identify potential causes of pediatric sleep apnea through the study or airway anatomy and the effects of lack of sleep on thinking and concentration.
Collaborators: Stephen V. Early, M.D.; Paul Surrat, M.D.