Laryngology Research
Tracheal Replacement using Decellularized Allograft Materials
Long-segment tracheal stenosis (windpipe narrowing) is currently a critical problem without a readily available clinical solution that can result in premature death and significant disability due to a severely restricted breathing passage. Tracheal stenosis can be congenital in nature or develop as result of tumor, airway injury, autoimmune disease, or infection. Circumferential replacement of the affected trachea has been a longstanding goal of the both the pediatric and adult airway research community for over 50 years. Undeterred by this significant challenge, Drs. Daniero and Cottler have teamed up to develop a protocol using decellularized tracheal scaffolds to regenerate the trachea incorporating advanced techniques, such as 3D printing and innovative surgical approaches. Early successes have led to continued support from the study sponsor and the project continues to evolve bringing cutting edge airway research to the Departments of Otolaryngology-Head and Neck Surgery and Plastic Surgery. The project is currently in pre-clinical trials.
Collaborators: Patrick Cottler, Ph.D., Department of Plastic Surgery
Study sponsor: LifeNet Health
Advanced Biomaterials for Voice Restoration
Voice production requires the body's two vocal folds (also known as vocal cords) to form a partially closed valve at the top of the windpipe. As air leaks through this valve, the vocal folds vibrate producing the sound of voice. Nerve injury, aging, or other tissue loss damages the integrity of this valve and results in loss of voice, limiting an individual's ability to communicate, work, and interact in society. Current methods of voice restoration following this type of injury include temporizing the problem with injection augmentation of the affected vocal fold(s) with a biocompatible tissue filler. This enlarges the vocal fold to provide a larger surface for the other vocal fold to contact, restoring valve function. However, the currently available range of products can only provide a 1 to 18-month duration of effect because the materials are slowly reabsorbed by the body. The injection technique is favorable because it can be performed under local anesthesia in the office setting. Conversely, permanent augmentation is provided through more invasive surgical implantation of the vocal fold using a permanent substance, such as a silicone block or Gore-Tex®. Through a collaboration with Dr. Griffin, a biomaterials expert in the Department of Biomedical Engineering, Dr. Daniero is developing an advanced purposefully engineered permanent injectable bioscaffold that harnesses the body's own healing abilities to restore tissue bulk and avoid the need for more invasive surgery. The technology is currently in pre-clinical trials.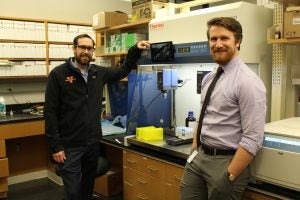 Collaborators: Don Griffin, Ph.D., Department of Biomedical Engineering
Study sponsor: Coulter Translational Research Partnership Award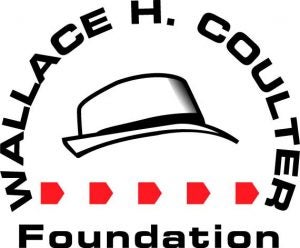 Treatment outcomes in idiopathic subglottic stenosis (iSGS)
Idiopathic subglottic stenosis is a debilitating and progressive narrowing of the trachea (windpipe) due to scar formation that results in restricted breathing and can be life threatening if left untreated. This rare condition has no known cause, but typically affects otherwise healthy Caucasian women around 50 years of age and often requires recurrent surgical procedures to restore the breathing passage over the remainder of an individual's lifetime. The rarity of this condition (1:400,000) limits the scientific progression in understanding the cause and treatment outcomes of this orphan disease. Therefore, the goal of the project is to create an international, multi-institutional prospective cohort of iSGS patients through a sophisticated open-access data infrastructure. As a pragmatic prospective trial, it will enable rigorous treatment strategy comparisons to determine 1) how well the most commonly used treatments in iSGS work; and 2) what quality of life trade-offs are associated with each approach. This unprecedented level of research collaboration seeks to enroll the majority of patients with this rare condition throughout North America, making it the largest study of its kind by ten-fold. The project has completed enrollment and in the data analysis phase.
 Collaborators: North American Airway Collaborative (NoAAC); Alexander Gelbard, M.D., Vanderbilt University, Department of Otolaryngology-Head & Neck Surgery
Study Sponsor: Patient-Centered Outcomes Research Institute, Coordinating Center- Vanderbilt University
Dr. Daniero's Publications:
Dr. Daniero's ORCiD