Doris M. Haverstick, Ph.D.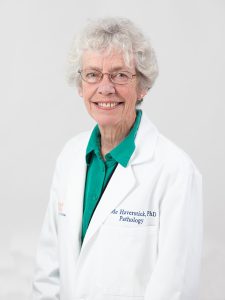 Associate Professor of Pathology
EDUCATION:
Graduate Education: St. Louis University  School of Medicine, 1982, Ph.D. in Pharmacology
1983 – 1985: Fellow in Lab Medicine, Washington University
1985 – 1987: Post Doctoral Fellow, Dept. of Biochemistry, University of Illinois
1987 – 1989: Research Associate, Mount Sinai Hospital of Detroit (Center for Cell Biology)
CLINICAL:
Toxicology: the identification of the agent inducing acute illness and the consequences of environmental pathogens.
Molecular Diagnostics: use of new techniques in molecular diagnostics, with emphasis on real-time PCR for rapid, definitive diagnosis.
Management of both financial and personnel resources in the face of changes in health care delivery, including the growth of point of care testing. Specific emphasis on decreasing personnel resources with increasing automation and complexity of tests performed and the impact on quality assurance activities and the need to meet regulatory requirements of multiple agencies (TJC, CAP, CMS, etc.).
RESEARCH:
The cell biology of signal transduction pathways involving changes in intracellular free Ca leading to proliferation (growth). Our model systems include the study of lymphocytes, breast and prostate cancer. Our goal is to understand calcium signaling pathways and use this information to develop new antiproliferative compounds for use in the control of human cancers in a cytostatic manner.
REFERENCES:
 Book Chapters –
D.M Haverstick and A. R. Groszbach. Specimen Collection and Processing.  In Fundamentals of Molecular Diagnostics, DE Bruns, ER Ashwood, and CA Burtis, eds.  Elsevier, 2007.

D.S. Young, E.W. Bermes, and D.M. Haverstick.  Specimen Collection and Other Preanalytical Variables.  In Fundamentals of Clinical Chemistry, CA Burtis, ER Ashwood, and DE Bruns, eds.  Elsevier, 2008.
A more complete list of Dr. Haverstick's publications can be obtained from PubMed.