Gay Wehrli, M.D., MBA, M.S.Ed.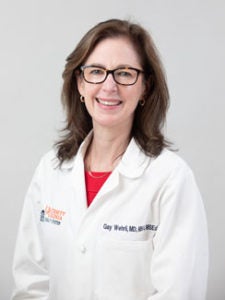 Associate Professor of Pathology
Associate Medical Director and Fellowship Director,
Blood Bank and Transfusion Medicine Services (BBTMS)
EDUCATION:
University of Southern California, Los Angeles, CA, M.S.Ed.
Los Angeles County + University of Southern California Medical Center, Los Angeles, CA, Pathology Residency and Blood Banking~Transfusion Medicine Fellowship
University of Southern California School of Medicine, Los Angeles, CA, M.D.
Trinity College, Hartford, CT, B.S.
CLINICAL:
My clinical practice areas include blood banking and transfusion medicine with special interests in therapeutic apheresis and hematopoietic progenitor cell collection and processing.
 RESEARCH:
My research interests include increasing our blood donor population and improving blood product utilization.  In addition I have an ongoing interest in graduate medical education.
 REFERENCES:
BOOK CHAPTERS:
Wehrli G.  Transfusion therapy in therapeutic apheresis.  In: Mintz PD, ed.  Transfusion therapy: clinical principles and practice.  2nd ed.  Bethesda, MD: American Association of Blood Banks, 2005:297-318.
Wehrli G, Shulman I.  Transfusion Therapy.  In: Demetriades D, Asensio JA, eds.  Trauma Management.  Georgetown, MD: Landes Bioscience, 2000:636-645.
Wehrli G, Chandrasoma PT.  The Duodenum.  In: Chandrasoma, PT.  Gastrointestinal Pathology. Stamford, CT: Appleton and Lange, 1998:145-166.