Mark H. Stoler, M.D.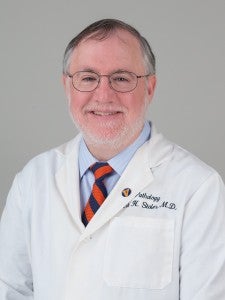 Professor of Pathology, Cytology and Gynecology
Associate Director of Surgical Pathology and Cytopathology
Director of Gynecological Pathology Fellowship Program
EDUCATION:
Medical School: University of Rochester, MD, 1980
Residency: University of Rochester Medical Center, 1980 – 1984
Fellowship: Fellow in Surgical and Cytopathology, University of Rochester Medical Center, 1984 – 1985
CLINICAL:
Cytopathology, Gynecologic Pathology, Hematopathology, Pulmonary and General Surgical Pathology and Diagnostic Molecular Pathology
RESEARCH:
Our research is directed at the application of molecular biologic methods, primarily in situ hybridization, to the study of gene expression in human disease. Areas of interest include viral carcinogenesis and the modulation of cellular gene expression in a variety of inflammatory and neoplastic states. Refinement of the role of molecular methods as diagnostic adjuncts to anatomic pathology practice is also under active investigation, as is the provision of reference level pathology for the support of clinical trials involving both diagnostics and therapy.
REFERENCES:
Cagnina RE, Conces MR, Stoler MH, Enfield KB: Reversed Halo Sign. A Case of Cryptogenic Organizing Pneumonia with Spontaneous Resolution. Am J Respir Crit Care Med 2015, 192:109-110. DOI: 10.1164/rccm.201501-0091IM [doi].
 Castle PE, Cuzick J, Stoler MH, Wright TC,Jr, Reid JL, Dockter J, Giachetti C, Getman D: Detection of human papillomavirus 16, 18, and 45 in women with ASC-US cytology and the risk of cervical precancer: results from the CLEAR HPV study. Am J Clin Pathol 2015, 143:160-167. DOI: 10.1309/AJCPLCD8TTOMLJTB [doi].
Gonzalez P, Hildesheim A, Herrero R, Katki H, Wacholder S, Porras C, Safaeian M, Jimenez S, Darragh TM, Cortes B, Befano B, Schiffman M, Carvajal L, Palefsky J, Schiller J, Ocampo R, Schussler J, Lowy D, Guillen D,Stoler MH, Quint W, Morales J, Avila C, Rodriguez AC, Kreimer AR, Costa Rica HPV Vaccine Trial (CVT) Group: Rationale and design of a long term follow-up study of women who did and did not receive HPV 16/18 vaccination in Guanacaste, Costa Rica. Vaccine 2015, 33:2141-2151. DOI: 10.1016/j.vaccine.2015.03.015 [doi].
Ingles DJ, Pierce Campbell CM, Messina JA, Stoler MH, Lin HY, Fulp WJ, Abrahamsen M, Sirak BA, O'Keefe MT, Papenfuss M, Gage C, Carvalho da Silva R, Gonzalez Sosa R, Rojas Juarez O, Villa LL, Lazcano Ponce E, Giuliano AR: Human papillomavirus virus (HPV) genotype- and age-specific analyses of external genital lesions among men in the HPV Infection in Men (HIM) Study. J Infect Dis 2015, 211:1060-1067. DOI: 10.1093/infdis/jiu587 [doi].
Castle PE, Smith KM, Davis TE, Schmeler KM, Ferris DG, Savage AH, Gray JE, Stoler MH, Wright TC,Jr, Ferenczy A, Einstein MH: Reliability of the Xpert HPV assay to detect high-risk human papillomavirus DNA in a colposcopy referral population. Am J Clin Pathol 2015, 143:126-133. DOI: 10.1309/AJCP4Q0NSDHWIZGU [doi].
Stoler MH: Farewell. Int J Gynecol Pathol 2015, 34:1-2. DOI: 10.1097/PGP.0000000000000191 [doi].
Stoler MH, Austin RM, Zhao C: Cervical cancer screening should be done by primary HPV testing with genotyping and reflex cytology for women over the age of 25 years. J Clin Microbiol 2015DOI: JCM.01087-15 [pii].
 Stoler MH, Ronnett BM, Joste NE, Hunt WC, Cuzick J, Wheeler CM, New Mexico HPV Pap Registry Steering Committee: The Interpretive Variability of Cervical Biopsies and Its Relationship to HPV Status. Am J Surg Pathol 2015, 39:729-736. DOI: 10.1097/PAS.0000000000000381 [doi].
 Sudenga SL, Ingles DJ, Pierce Campbell CM, Lin HY, Fulp WJ, Messina JL, Stoler MH, Abrahamsen M, Villa LL, Lazcano-Ponce E, Giuliano AR: Genital Human Papillomavirus Infection Progression to External Genital Lesions: The HIM Study. Eur Urol 2015DOI: S0302-2838(15)00434-0 [pii].
Vyas NS, Pierce Campbell CM, Mathew R, Abrahamsen M, Van der Kooi K, Jukic DM, Stoler MH, Villa LL, da Silva RC, Lazcano-Ponce E, Quiterio M, Salmeron J, Sirak BA, Ingles DJ, Giuliano AR, Messina JL: Role of histological findings and pathologic diagnosis for detection of human papillomavirus infection in men. J Med Virol 2015, 87:1777-1787. DOI: 10.1002/jmv.24238 [doi].
Wright TC, Stoler MH, Behrens CM, Sharma A, Zhang G, Wright TL: Primary cervical cancer screening with human papillomavirus: end of study results from the ATHENA study using HPV as the first-line screening test. Gynecol Oncol 2015, 136:189-197. DOI: 10.1016/j.ygyno.2014.11.076 [doi].
Chen W, Jeronimo J, Zhao FH, Qiao YL, Valdez M, Zhang X, Kang LN, Bansil P, Paul P, Bai P, Peck R, Li J, Chen F,Stoler MH, Castle PE: The concordance of HPV DNA detection by Hybrid Capture 2 and careHPV on clinician- and self-collected specimens. J Clin Virol 2014, 61:553-557. DOI: 10.1016/j.jcv.2014.09.018 [doi].
Huh WK, Sideri M, Stoler M, Zhang G, Feldman R, Behrens CM: Relevance of random biopsy at the transformation zone when colposcopy is negative. Obstet Gynecol 2014, 124:670-678. DOI: 10.1097/AOG.0000000000000458 [doi].
A current list of Dr. Stoler's peer-reviewed publications can be obtained from PubMed.