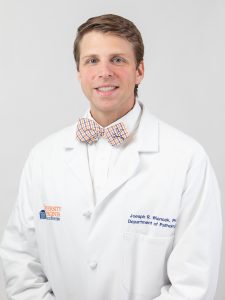 Joesph R. Wiencek, Ph.D.
Assistant Professor of Pathology
Co-Director, Clinical Chemistry Fellowship
Associate Director of Clinical Chemistry, Director of Immunology, Director of Biochemical Genetics and Co-Technical Director of Core Hematology
EDUCATION:
Undergraduate: Chemistry, The Ohio State University, 2005-08
Doctorate: Clinical-Bioanalytical Chemistry, Cleveland State University, 2010-15
Internship: Clinical Chemistry, Cleveland Clinic, 2013-15
Fellowship: Clinical Chemistry, Vanderbilt University School of Medicine, 2015-17
CLINICAL:
Clinical Chemistry
RESEARCH:
Causes of preanalytical variations in laboratory testing; Laboratory Stewardship; Medical Education
ORGANIZATIONAL INVOLVEMENT/MEMBERSHIPS:
American Association for Clinical Chemistry (AACC), Association for Pathology Informatics, Academy of Clinical Laboratory Physicians and Scientists (ACLPS) Mass Spectometry: Applications to the Clinical Laboratory (MSACL)
AWARDS/HONORS:
Clinical Chemistry Awards
2018 Young Investigator Award, MSACL
2017 Distinguished Abstract Award, AACC Academy
2017 Christopher S. Frings Award, Southeast Section, AACC
2017 Management Sciences/Patient Safety Division Distinguished Abstract, AACC
2016 Paul E. Strandjord Young Investigator Award, ACLPS
2016 Honorable Mention, Oral Presentation, AACC
2016 Gerald R. Cooper Award, Southeast Section, AACC
2015, 2014 Second Place, Oral Presentation, Northeast Ohio Section, AACC
2013 First Place, Oral Presentation, Northeast Ohio Section, AACC
2010 Distinguished Abstract Award, ASH
Teaching Awards
2018 Commitment to Excellence in Teaching Certificate, UVA
2017 Excellence in Resident Education, Clinical Pathology Fellow Teaching Award, VUMC
2013 Bockhoff Award for Sustained Excellence in Undergraduate Teaching, CSU
2012, 2011 F.C. Mark Award for Excellence in Undergraduate Teaching, CSU
Publications
Wiencek J, Bowman C, Adams B, Sussman C, Sephel G, Linton MF, Nichols JH and Woodworth A. Falsely decreased CO2 in patients with hypertriglyceridemia. The Journal of Applied Laboratory Medicine: An AACC Publication 2017;1(7):1-3. doi: 10.1373/jalm.2017.02323
Wiencek J, Booth GS and Nichols JH. A primed pregnancy screen. Clin Chem 2017;63:1423-1424. doi:10.1373/clinchem.2016.27049
Wiencek J and Booth GS. Sickle cell trait in the blood supply. The Journal of Applied Laboratory Medicine: An AACC Publication 2017;1(6):773-775. doi:10.1373/jalm.2016.02260
Wiencek J, Nichols JH. Issues in the practical implementation of POCT: overcoming challenges. Expert Rev Mol Diagn 2016;16(4):415-22. doi: 10.1586/14737159.2016.1141678
Wiencek J, Hirbawi J, Yee V and Kalafatis M. The dual regulatory role of amino acids Leu480 and Gln481 of prothrombin. J Biol Chem 2015;291(4):1565-1581. doi: 10.1074/jbc.M115.691956
Wiencek J, Na M, Hirbawi J and Kalafatis M. Amino acid region 1000-1008 of factor V is a dynamic regulator for the emergence of procoagulant activity. J Biol Chem 2013;288(52):37026-38. doi: 10.1074/jbc.M113.462374.
Book Chapters
Wiencek J, Colby J and Nichols JH. Rapid assessment of drugs of abuse. In Gregory S. Makowski, editor: Advances in Clinical Chemistry, Vol 80, ACC, UK: Academic Press, 2017, pp. 193-225.