41st McLemore Birdsong Pediatric Conference
Schedule & Conference Information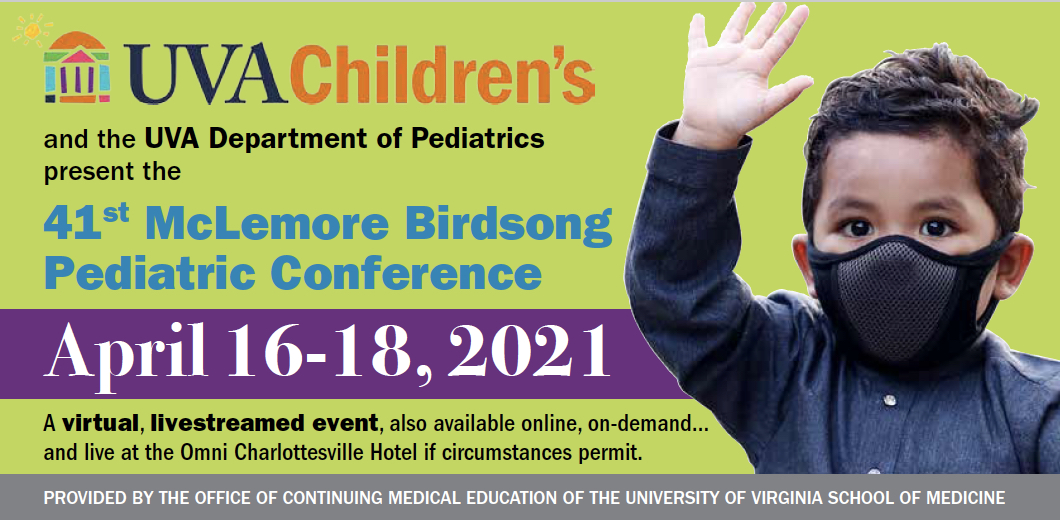 This year's program will feature such topics as:
Breakfast with the subspecialists—Genetics, Neurosurgery, and more!
Top Ten Pediatric Articles of the Year
Menstrual disorders and precocious puberty
ADHD in adolescents
POTS, COVID-19, behavior challenges in Autism
Gait disorders
Registration coming in February, 2021 at  www.cmevillage.com!
2021 Topics and Speakers
Diagnosing ADHD in adolescents and emerging adults, Joshua Langberg, PhD
Helping Parents Manage their Child's Anger and Aggression, Haley Stephens, PhD
POTS, Daniel Schneider, MD
COVID-19, Debbie-Ann Shirley, MD
Management of Spine pain in the Young Athlete, Eric Magrum, DPT, OCS, FAAOMPT
Intimate Partner Violence for Health Care Providers What to Do?, Rebecca Abernathy, MD
Orthopedic gait abnormalities: work-up and management, Leigh Lather, MD
Sports clearance for cardiac prospective, Peter Dean, MD
Interpreting psychoeducational testing and strategies, Emily Gonzalez, PhD
ID diagnostic dilemmas, Sarah Boggs, MD
Precocious puberty, Kelly Mason, MD
Frontline assessment of Learning Disabilities, Kenneth Norwood, MD
Nipples and Babies and Latching, Oh My!, Ann Kellams, MD
Could this be a food allergy? Jonathan Hemler, MD
Treating Pediatric Inflammatory Bowel Disease in 2020, Stephen Borowitz
Picky & Panicked: Caregiver Strategies for Selective Eaters, Teagan Medico
Caring for Children with Autism: Practical Strategies in Primary Care, Beth Ellen Davis, MD
AAP Update from the AAP Virginia Chapter President, Michael Martin, MD
"Birdsong All Year Long" Pediatric Grand Rounds 2020-2021
For more information about virtual Grand Rounds and previous recordings please contact Janie Nowicki.