Pediatric Research

The research in the Department of Pediatrics leads, inspires and directs all aspects of the growing research programs with-in the departments multiple divisions. This includes research advancement and corporate relations, pre-award research and post-award research.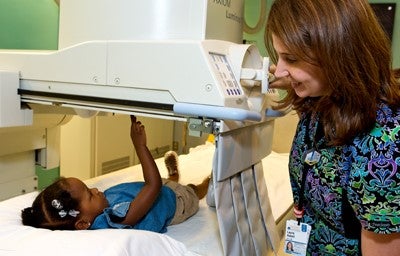 The Pediatrics Research Grants & Contracts team works collaboratively with faculty and staff to deliver award account management services.  We serve as liaisons for the School of Medicine's Grant and Contacts Office for pre-award functions (i.e. budget, submission, progress reports, etc.). We also work in conjunction with the University's Office of Sponsored Programs (OSP) for post-award, project or award creation, financial management of grant funds, etc. to support investigators in their research efforts.
Want to get started? Contact the Research Grants & Contracts Team
Need Additional Help? Go to the Research Concierge
Research Concierge @ the Library is a joint service provided by iTHRIV, the School Of Medicine Clinical Trials Office (SOM CTO), and the Health Sciences Library.
LOCATION: Claude Moore Health Sciences Library, desk area outside room 1212
HOURS: Wednesdays 9am – 12pm; Fridays 9 am – 12 pm (This service is not available on academic holidays.)
Need help outside of these hours?  Request a consultation by logging into the iTHRIV portal. (Scroll down to the iTHRIV section and review the "How do I log in to the portal?" for instructions)
Research Concierge Services are available to connect UVa investigators with clinical translational research services across Grounds. They can also help research teams understand and utilize UVa systems that support research operations. Research Concierge Services consults are available free of charge to all students, staff, and researchers across the University of Virginia and may assist with research challenges such as:
Feasibility analysis
Protecting intellectual property
Protocol development
Multi-center study management / Data Coordinating Center services
Training
Assistance finding grant opportunities
Access to budget development information and research pricing
Develop study billing coverage analysis
Animal facilities and Research Cores
Tissue banking and sample processing facilities
Clinical Research Unit at West Complex and Fontaine (nursing support as needed)
Investigational New Drug (IND)/ Investigational Device Exemption (IDE) determination and submission
Clinicaltrials.gov registration
IRB document preparation and submittal
Useful Links for Pre-Award, Funding Resources, Post Award and Non-Funding Agreements

Integrated Translational Health Research Institute of Virginia (iTHRIV)
The Integrated Translational Health Research Institute of Virginia (iTHRIV) is UVA's front door for health researchers. The iTHRIV portal is a centralized database of research resources that can be accessed by using your UVA login to sin on to the portal at portal.ithriv.org (In order to use all the features of iTHRIV, please use Chrome, Firefox, or Edge).
Many of the above resources and much more can be found on iTHRIV.
iTHRIV- Research Resources–>Click Here
Select the login button to the top right or your institutional logo wherever it appears in the system. After picking the UVA logo, you will be directed to an InCommon page. After selecting your institution from the long list of InCommon institutions and saving this selection for future ease, you will be directed to the InCommon login page where you can enter your current institutional user id and password. Being logged in will allow you to select personal favorites and edit the resource pages you own.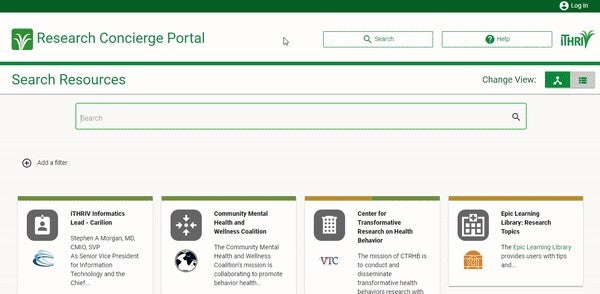 If you would like to have a personal tour of the portal to better find content or understand functionality, you can request a consult from the Research Concierge Services Manager. Make sure you are logged in, select the HELP button in the upper right, and then select the 'Request Consult' button in the top right of the portal and completing the subsequent consult web form. This button only appears to users who are logged in to the system. If you do not have a personal login for the portal, you can send an email to ResearchConcierge@hscmail.mcc.virginia.edu.
Investigators can request support or more information about a specific resource by using the contact information provided on the resource page or the associated website.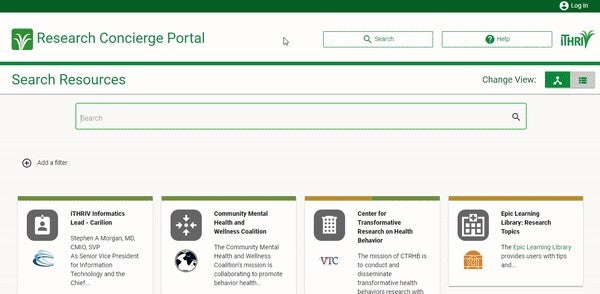 Regulatory Approval
Getting started on a research project?
There are two UVA Institutional Review Boards:
Information on the University IRB Site can help you determine which IRB applies to your research. The appropriate board must approve all research projects. Get started on the approval process early! A good place to start is the IRB Research Guidance document.
Before participating in any research, you must complete a human subjects research CITI training module (certification good for 3 years).
The IRB has an online Protocol Builder that will create a blank Word template of the appropriate paperwork. Go to the link above, request a password, and create a template.
Requirements related to Animal Use and Care can be found at:
UVA Funding & Grant Resources