The Battle Building
The Battle Building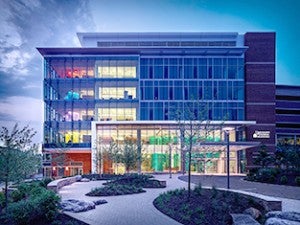 The Battle Building at the University of Virginia Children's Hospital is a pediatric outpatient healthcare facility like no other in our region.
For patient information and appointments, please call 434-243-5500 or visit the UVA Children's Hospital website.
Made possible by a grant from the Ivy Foundation, long-time UVA Children's Hospital benefactors Barry and Bill Battle, and many generous donors, the building officially opened in June 2014. This seven-story, 200,000 SF facility houses pediatric primary care, dozens of pediatric specialties, a maternal and fetal medicine clinic, pediatric outpatient rehabilitation services, the teen and young adult health center, outpatient surgery, and a clinical trials suite and clinical research office, all in one central location with immediate proximity to the UVA Medical Center.
Clinics are organized in interdisciplinary, multifunctional "neighborhoods", with similar services grouped together such as orthopedics, physical and occupational therapy, and developmental pediatrics. Children and their families are at the center of care, with convenient, multiple same-day appointments for children who need care by various specialties and services.
Learn More