When:
August 29, 2019 @ 8:00 am – September 1, 2019 @ 5:00 pm
2019-08-29T08:00:00-04:00
2019-09-01T17:00:00-04:00
Where:
Crowne Plaza Philadelphia - King of Prussia
260 Mall Blvd King of Prussia
PA 19406 United States
2019 THEME – REVOLUTIONARY EXPERIENCES: The Power of Love and Consciousness:
Near-Death Experiences (NDEs) and other Spiritually Transformative Experiences (STEs) often initiate profound changes in the experiencer's consciousness and life direction. This includes increased spiritual awareness resulting in positive change within their lives based on altruistic values and priorities. They act with loving compassion building a greater sense of brotherhood. Collectively the experiencers and research findings provide us the information needed for a cross-cultural revolution toward love and consciousness-based living, and a possible change in humanity at this time in history.
Dr. Bruce Greyson will present: "Expanding the Science of Consciousness by Expanding the Consciousness of Scientists", Thursday, August 29th, 2019-Keynote Presentation
There is a rich literature on the neuroscience of consciousness that focuses on biological mechanisms of wakefulness and awareness of the physical environment. However, that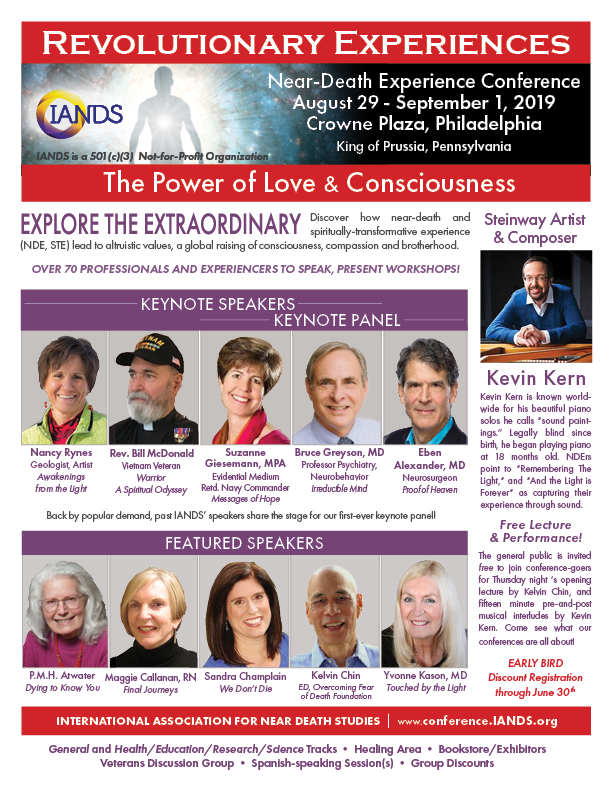 literature totally ignores and in fact, rejects the existence of a higher consciousness. Some scientists argue that, even if a spiritual realm existed, it could not be addressed by science. But the past century has seen a gradual recognition that science and spirituality are compatible and that only a marriage of the two can provide an accurate description of reality.
Dr. Greyson argues that the science of consciousness can be elevated only when the consciousness of the scientists themselves has been elevated.
Keynote Speakers: Bruce Greyson, Suzanne Giesemann, Rev. Bill McDonald, Nancy Rynes, and Plenary Speakers Eben Alexander, Mark Anthony, and many more!