Media – NDEs
Video: 
Presentation: Is Consciousness Produced by the Brain?
Consciousness Without Brain Activity, NDEs-Dr. Bruce Greyson, 2008.
In this video, Jeff Olsen shares the moving story of his personal NDE and Dr. Bruce Greyson presents the NDE research, 2016.
TV:
Here is a short video of Dr. Bruce Greyson being interviewed on CBS affiliate Channel 19, Charlottesville VA.
This is just after four of the DOPS researchers presented their research at the UVA School of Medicine Medical Center Hour, "Life After Death?-50 years of Research at the Division of Perceptual Studies", February 22, 2017.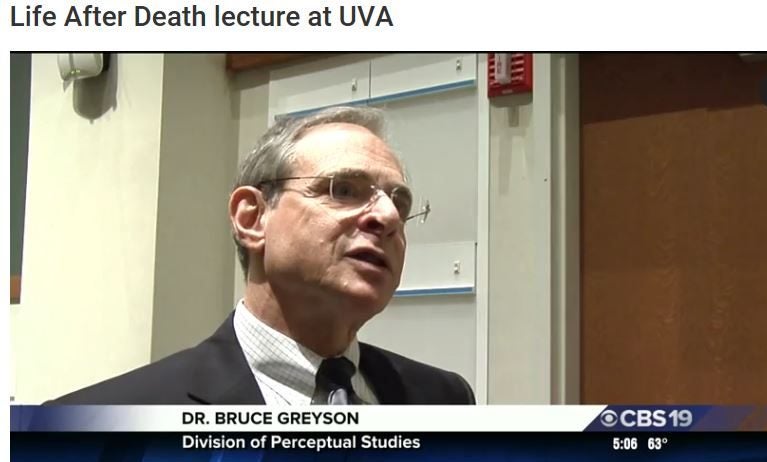 Radio:

What Near-Death Experiences show about our brains and our beliefs. The State of Things – North Carolina Public radio, WUNC, hosted by Frank Stasio.  On November 30th, 2017, Dr. Bruce Greyson discussed his research into Near Death Experiences on the NPR program The State of Things. Host Frank Stasio interviewed Dr. Greyson about his NDE research along with Susan Amsden, who is a group leader of the International Association of Near-Death Studies in Durham, NC. A discussion took place regarding what people who are near death report about their experiences, and how their NDEs changed their understanding of life and death.  Here is the Podcast .

Listen to Dr. Bruce Greyson in a radio interview on Minnesota Public Radio- A glimpse of the afterlife through near-death experiences. On April 6th, 2015, Dr. Bruce Greyson did a live radio interview on MPR along with journalist Gideon Lichfield. Mr Lichfield wrote an article on near death experiences that appeared in "The Atlantic Magazine", titled, " The Science of Near Death Experiences-Empirically investigating brushes with the afterlife".  

Listen to Dr. Bruce Greyson discussing Near Death Experiences in an interview from November, 2006,  hosted by Sarah McConnell on the award winning public radio program With Good Reason.  Dr. Bruce Greyson has carefully documented clear patterns in the long-term health and mind-sets of the people who have experienced near-death phenomena. Although these experiences vary from one person to another, they often include feelings of comfort, lack of pain, a sensation of leaving the body, and a sense of deep understanding of the events of the past and at times, events of the future.  This episode of With Good Reason was titled, Into the Light and it originally aired on December 22nd, 2007.
Magazine and News Articles:
This is an article from the UVA Alumni Magazine, summer 2007 , focusing on the research into Near-Death Experiences being conducted by Dr. Bruce Greyson. Click here to read "Altered States: Scientists analyze the near-death experience" by Lee Graves.
Special Events:
Dr. Bruce Greyson presented his research on Near Death Experiences to His Holiness the Dalai Lama and to the monks of Dharamsala, India in December of 2011.The 2011 conference in Dharamsala was titled Cosmology and Consciousness: A Dialogue Between Buddhist Scholars and Scientists on Mind and Matter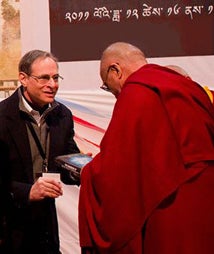 Click here to learn more about the conference and to view photos of Dr. Greyson presenting the DOPS research to His Holiness the Dalai Lama and to the monks of Dharamsala.
We welcome written accounts of near death experiences. See Contacting Us to submit a personal NDE account.