Calendar
Nov
7
Sat
2020
Kim Penberthy PhD-Beyond the Brain: Further Reaches of Consciousness. Dr. Penberthy will present-Contemplative Practices and Extraordinary Experiences (live online conference)

@ Live Zoom Conference
Nov 7 @ 2:30 pm
Kim Penberthy PhD presents: Contemplative Practices and Extraordinary Experiences.
Extraordinary experiences and abilities may be brought about by intentionally changing consciousness via various contemplative methods such as meditating. Some research indicates that various forms of meditation are associated with increased mindfulness and paranormal experiences of precognition, telepathy, clairvoyance, and synchronicities. Data exploring these descriptive studies of reported experiences will be presented, along with our early investigations on the impact of a meditation course in various populations. We will focus on self-reported extraordinary experiences and psi in a variety of contexts and studies and present data that found large percentages of people in the general public report such experiences. We will also review our most recent research comparing a self-selected group of meditators versus non-meditators and our findings regarding the frequency and impact of self-reported mindfulness, paranormal experiences, and performance on psi tasks over time and the meaning associated with these experiences. Recommendations for future research will also be provided.
November 7th, 2020, 2:30 pm London time.
This is a ticketed event.
Buy your tickets here:
Mind Beyond Brain 2020-Live on line conference
A preview of Dr. Penberthy's talk:
Edward Kelly PhD-Beyond the Brain: Further Reaches of Consciousness. Dr. Kelly will present-Mind Beyond Brain: Towards Reconciliation of Science and Spirituality (live online conference)

@ Live Zoom Conference
Nov 7 @ 4:00 pm
Edward Kelly PhD presents: Mind Beyond Brain: Towards Reconciliation of Science and Spirituality
This presentation will begin with a sketch of the 15-year Esalen "Sursem" (from "survival seminar") project that resulted in the books Irreducible Mind (2007) and Beyond Physicalism (2015).
The former mainly sought to collect in one place a large amount of empirical evidence for various "rogue" psychological and physiological phenomena that resist or defy explanation in conventional physicalist terms, while the latter went on with a modest degree of success to the more difficult problem of identifying some more commodious sort of conceptual framework, or worldview, or metaphysical system potentially capable of accommodating those phenomena. Dr. Kelly will then go on to a brief account of subsequent developments including recent advances in both research and theory, which will result early next year in a third book in this series, and end by attempting to state succinctly what Dr. Kelly thinks the entire project adds up to, both intellectually and practically.
November 7th, 2020, 4:00 London time.
This is a ticketed event.
Buy your tickets here:
Nov
9
Mon
2020
Kim Penberthy PhD–The Scientific and Medical Network: An Introduction to the Study of the Mind-Body Relationship with a Focus on Extraordinary Experiences and Fear of Death (live online event)

@ Live Zoom Event
Nov 9 @ 7:30 pm – 9:30 pm
Kim Penberthy PhD, will present "An Introduction to the Study of the Mind-Body Relationship with a Focus on Extraordinary Experiences and Fear of Death" in a live Zoom presentation, hosted by Claudia Nielsen, as part of an ongoing series of The Scientific and Medical Network London group talks currently held online. These talks were previously held as live events in Hampstead, London.
Kim will provide a brief overview of the Division of Perceptual Studies of the University of Virginia, its history, and current research focus, including near death experiences and their impact. She will then focus on her own current research exploring the impact of both spontaneous experiences, such as perceived communications from deceased loved ones, and intentionally induced alterations in consciousness, via such things as meditation and other contemplative exercises. The results of multiple studies exploring these impacts will be discussed. She will also explore fear of death and dying and their recent research exploring the prevalence of such as well as potential effective strategies to reduce this anxiety and why doing so would be beneficial.
9th November, 2020:7:30 pm – 9:30 pm, London time
This is a ticketed live zoom event.
Click here for ticket information and scroll down to find the ticket form.
Mar
6
Sat
2021
Bruce Greyson: IANDS Stellar Speakers Series presents "After" Book Launch
Mar 6 @ 1:00 pm – 3:00 pm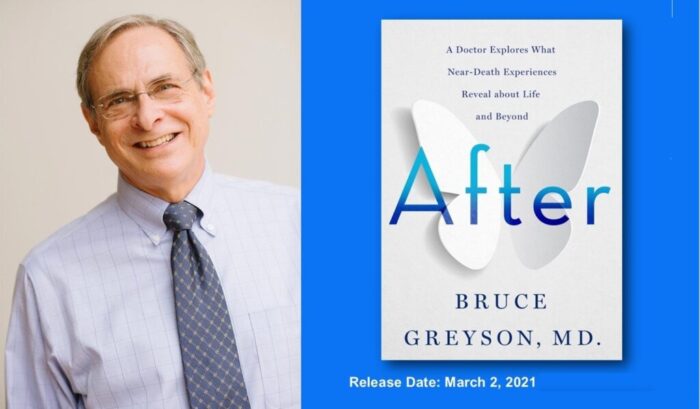 Don't miss an opportunity to participate in this online book launch event with Dr. Bruce Greyson who will be discussing his new book After: A Doctor Explores What Near-Death Experiences Reveal about Life and Beyond
The book covers Dr. Greyson's personal and professional journey in the field of near-death studies over his long, four decade career.
You can reserve your seat today for this online event to honor Dr. Greyson for the incredible gift of a lifetime of service and careful research that has changed the world's awareness and perception of the phenomenon of near-death and similar experiences.
This is expected to be a very popular event and there is limited virtual seating so please reserve your seat today.
The event will include a fireside chat with Dr. Greyson.