Calendar
Aug
29
Thu
2019
Dr. Bruce Greyson-Keynote Speaker, 2019 IANDS Conference

@ Crowne Plaza Philadelphia - King of Prussia
Aug 29 @ 8:00 am – Sep 1 @ 5:00 pm
2019 THEME – REVOLUTIONARY EXPERIENCES: The Power of Love and Consciousness:
Near-Death Experiences (NDEs) and other Spiritually Transformative Experiences (STEs) often initiate profound changes in the experiencer's consciousness and life direction. This includes increased spiritual awareness resulting in positive change within their lives based on altruistic values and priorities. They act with loving compassion building a greater sense of brotherhood. Collectively the experiencers and research findings provide us the information needed for a cross-cultural revolution toward love and consciousness-based living, and a possible change in humanity at this time in history.
Dr. Bruce Greyson will present: "Expanding the Science of Consciousness by Expanding the Consciousness of Scientists", Thursday, August 29th, 2019-Keynote Presentation
There is a rich literature on the neuroscience of consciousness that focuses on biological mechanisms of wakefulness and awareness of the physical environment. However, that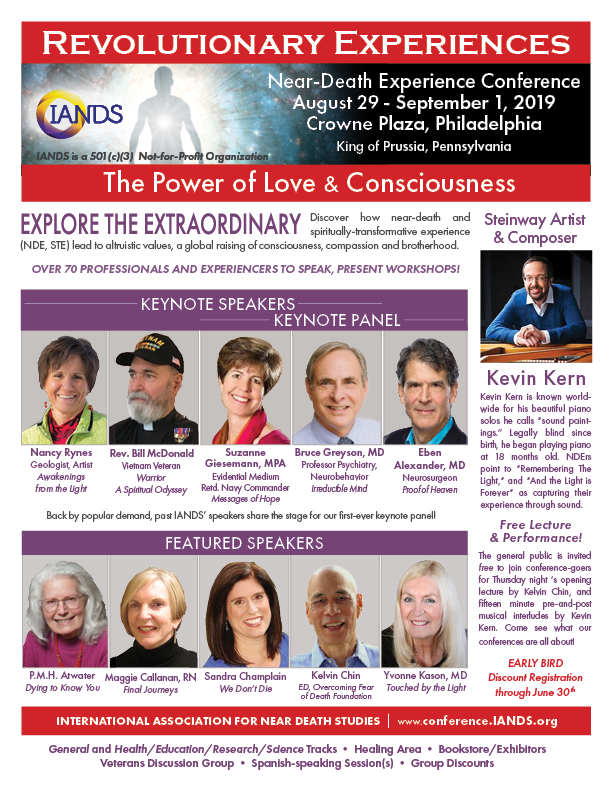 literature totally ignores and in fact, rejects the existence of a higher consciousness. Some scientists argue that, even if a spiritual realm existed, it could not be addressed by science. But the past century has seen a gradual recognition that science and spirituality are compatible and that only a marriage of the two can provide an accurate description of reality.
Dr. Greyson argues that the science of consciousness can be elevated only when the consciousness of the scientists themselves has been elevated.
Keynote Speakers: Bruce Greyson, Suzanne Giesemann, Rev. Bill McDonald, Nancy Rynes, and Plenary Speakers Eben Alexander, Mark Anthony, and many more!
Nov
15
Fri
2019
Marieta Pehlivanova, PhD: Presenter at the American Center for the Integration of Spiritually Transformative Experiences, 2019 Conference

@ Embassy Suites by Hilton Atlanta at Centennial Oly
Nov 15 @ 8:00 am – 5:30 pm
Therapeutic Issues of Spiritually Transformative Experiences: ACISTE Conference, 2019
American Center for the Integration of Spiritually Transformative Experiences (ACISTE) was established in 2009 to support people who have spiritually transformative experiences (STEs).
Click here for a list of 2019 Speakers and Presenters at the upcoming ACISTE Conference.
ACISTE provides education and certificate training for mental health professionals, pastoral counselors, spiritual counselors, life coaches and other support professionals who wish to increase their competency and develop their expertise in working with clients who may have psychological, spiritual or mental health challenges related to their spiritually transformative experiences (or STEs).  STEs may include, but are not limited to, near-death or similar experiences, spiritual emergencies, out-of-body, kundalini, after-death communications,
The conference brings together top researchers, experiencers and practicing professionals to present their expertise and insight into this growing field of specialization and awareness.
Main Session:
Marieta Pehlivanova, PhD: Support Needs and Outcomes for Near-Death Experiencers:
Abstract:
The vast majority of research work on near-death experiences (NDEs) to date has focused on understanding NDEs' phenomenology, classifications, aftereffects, circumstances of occurrence, and implications for the mind-brain relationship. Nevertheless, there is still a dearth of research into how best to help experiencers cope with and integrate the experience in its immediate aftermath.
NDEs can be hugely life-transforming and powerful experiences. NDEs are often accompanied by a robust pattern of aftereffects, including deep and long-lasting changes in the experiencer's values, spirituality, relationships, and outlook on life. However, NDEs can also trigger emotional and interpersonal difficulties, and the long-term integration of these experiences and their aftereffects can take years. Experiencers often find it difficult to talk about their NDE with medical professionals and even with loved ones, for fear of rejection, ridicule, or a label of mental illness. Difficulties may also arise from the inability of friends and family to accept or adapt to experiencers' changing values and interests. At the same time, specialized professional help is limited by the scarcity of counselors, therapists or health professionals familiar with NDEs and specific issues engendered by the experience.
Dr. Pehlivanova is conducting an exploratory study to investigate the types of professional help, therapy, and support groups near-death experiencers have sought out to process their experience, and whether those have been helpful. Using online surveys, we are gathering data from near-death experiencers themselves, as well as counselors and mental health professionals who have worked with them. To our knowledge, this is the first quantitative study to explore the types and outcomes of therapies and support avenues for near-death experiencers. Data obtained from this study could help us design data-driven recommendations for supporting individuals who have had an NDE and are experiencing difficulties resulting from it.
Intended Conference Audience: Psychologists; Psychological Assistants; Psychiatrists; Psychotherapists; Clinical Social Workers; Marriage and Family Therapists; Professional Counselors; Addiction Counselors; Pastoral Counselors; Spiritual Directors;  Spiritual Life Coaches; Psychiatric Nurses.
The conference will help answer some of these questions:
Spiritual experiences: real or delusional?
How are people differently affected, challenged or transformed by spiritual experiences?
What are some therapeutic approaches?
How do different cultures deal with such experiences?
How are children affected by these experiences?
What are some possible explanations for these experiences?
What types of spiritually transformative experiences are there?
Each attendee receives an updated supplemental guidelines for working with clients who report issues related to STEs.  The collaboratively written guidelines include research results.
Dr. Pehlivanova is currently collecting data for this study related to her upcoming talk in November. She encourages your participation if you belong to one of the two groups described below:
Group 1) Call for mental health professionals or counselors who have worked with near-death experiencers. If you are interested in enrolling in the mental health professionals part of this research study, please follow this link to the online questionnaire.
Group 2) Call for people 18 and older who have had a near-death experience for this part of the study. If you are interested in enrolling in the near-death experiencer part of this research study, please follow this link to the online questionnaire.