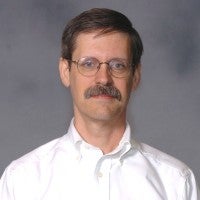 Dr. Harrison is Associate Professor and Director of the Division of Biomedical Informatics in the Department of Public Health Sciences at UVA, and has a secondary appointment in the Department of Pathology. He also has a courtesy appointment in the Department of Systems and Information Engineering in the School of Engineering and Applied Sciences. He has 20 years of experience in the field of medical informatics, including work in clinical laboratory information systems, electronic health records, clinical data analysis, World Wide Web development, funded participation in the caBIG® Architecture and Documentation/Training Workspaces, and has current and previous R01 funding in informatics and software development from the NCI and NLM. He is the primary faculty lead for the development of clinical research informatics in the UVA School of Medicine: his Division develops and manages the institutional Clinical Data Repository, the Cancer Clinical Trials Management System, the Biorepository Information System, and a locally-developed general purpose framework for research databases. He is a member of the institutional Data and Information Steering Committee (DISC), the Clinical Information Technology Oversight Committee (CITOC), and a number of subcommittees related to clinical and health research informatics. In the Department of Pathology he directs the Laboratory Information System (LIS) group and is the faculty lead for the current project to replace the current LIS with Epic's Beaker LIS and a new blood bank information system. He is also Associate Director for Health Analytics in the University-wide Data Sciences Institute and is currently contributing to the design and specification of a new high-security/high-performance computing cluster that will focus on health analytics.                                                                                                                                                                                                    Nationally and internationally, Dr. Harrison is active in informatics education and health data standards development. He is a member of the College of American Pathologists (CAP) Informatics Committee and Curriculum Committee, and contributed to the development of national informatics learning objectives for pathologists in practice and a new national curriculum in informatics for pathology resident education. He also co-chairs the Association for Pathology Informatics Data Standards Workgroup and is a member of the Informatics Workgroup of the International Society for Biological and Environmental Repositories (ISBER). He is liaison from the CAP to the Orders & Observations Workgroup of the HL7 standards organization (www.hl7.org) and the Laboratory Domain of the IHE (www.ihe.net), and at the state level he is a member of the Virginia Commonwealth Health Information Technology Standards Advisory Committee and the All-Payer Claims Database Advisory Committee. Within the HL7 and IHE he is developing the definition for a new protocol for improved communications between clinicians and clinical laboratories.
Associate Professor
Director, Division of Biomedical Informatics
P.O. Box 800717
Tel: 1-434-924-8054
Fax: 1-434-924-8437
Email: james.harrison@Virginia.EDU
Health System West Complex Room 3225
Expertise:
General clinical informatics, informatics curriculum development, programming (Python), XML; Laboratory Medicine; Pharmacology/pharmacokinetics
Research Interests:
Clinical decision support; Clinical process monitoring; Time sequence analysis in medicine; Clinical user interface design; Modeling health-related data and documents; Healthcare data mining; Collaboration support.
Teaching Responsibilities:
Lecturer in PHS 7450 – Database Design & Implementation