By: Margaret C. Tracci, MD, JD
The Scale of the Problem
Over the past two decades, the abuse and diversion of prescription opioids has grown to epidemic proportions. In 2009, fueled by a surge in deaths associated with prescription pain medications, drugs deaths outnumbered traffic fatalities for the first time. Just a few weeks ago, the Council of Economic Advisors released a report estimating that the economic cost of the opioid crisis was $504 billion, or 2.8% of GDP in 2015, the last year for which complete data were available.
The Federal Response
So what has the federal government done to respond to this crisis?  In October, the Department of Health and Human Services declared the opioid crisis a public health emergency.  In FY2017, HHS invested nearly $900 million in opioid-specific programs, including funds authorized through the Comprehensive Addiction and Recovery Act of 2016 (CARA) and the 21st Century Cures Act and the Department of Justice granted nearly $60 million. Much of this funding supports the efforts of state and local governments. Beyond funding, the federal government has established broad education effort aimed at both providers and the public. It has also sought to support the development and promulgation of best practices, including the Centers for Disease Control and Prevention's 2016 release of the CDC Guideline for Prescribing Opioids for Chronic Pain.
States Take Up the Call to Legislate
The legislative response of the states to this crisis has spanned both health care and law enforcement and spawned a great deal of innovation. On the health care front, we have seen the rapid passage of laws supporting treatment and recovery services, improving the availability of overdose reversal drugs and training first responders in their use, strengthening data reporting and collection, and underwriting research on addiction, pain, and best medical practices. States have also moved rapidly to establish prescription monitoring programs (PMPs) to reduce "doctor shopping" behavior and have, increasingly, mandated that providers access these programs when prescribing opioids. More recently, states, including Virginia, have embraced the adoption of strict limitations on prescribing and mandated opioid-focused CME.
Law enforcement has moved beyond early efforts aimed at reducing the supply of opioids through interdiction of illicit trafficking to innovative approaches such as take-back and disposal programs and dedicated "drug courts" intended to divert those suffering from addiction toward needed services and support rather than prison, including programs targeting youth, families, and veterans.  The Veterans Treatment Courts perhaps go the farthest in bridging the law enforcement-health care divide by approaching this population with an understanding of the strong relationship between substance abuse and mental health disorders, using Outreach Specialists with access to medical records and the ability to make appointments, and integrating criminal justice with access to treatment and mentoring programs. Virginia's drug courts, such as those in Charlottesville/Albemarle, are striving for a similar coordination of criminal justice and access to treatment and social services, though they rely on a mélange of funding through a blend of federal grants, state sources, and local matching funds, as do their partner local Community Service Boards (CSBs). These challenges persist despite cost-benefit analyses suggest substantial cost savings when offenders participate in drug treatment programs rather than standard court and annual reviews consistently demonstrating lower recidivism rates in those who complete diversion programs.
What's Happening in Virginia?
Virginia has been hard hit, with a steady rate of approximately 5 deaths per 100,000 attributed to prescription opioids and a skyrocketing rate of deaths due to fentanyl or heroin overdose.  While fentanyl (synthetic opioid) and heroin deaths are clustered in urban areas, prescription opioid-related mortality plagues the economically depressed rural areas of the state, particularly along the Eastern Shore and Appalachian regions. Echoing national figures, drug overdoses overtook motor vehicle crashes and gunshots as the leading cause of unnatural death in 2014. More than 10,000 Virginians are now brought to the ED annually for opioid overdoses. Associated with this are a steady increase in the rate of neonates suffering from withdrawal, known as neonatal abstinence syndrome (NAS), and young adults infected with Hepatitis C, which can lead to cirrhosis, cancer, liver failure, and death. ()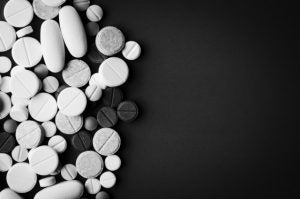 Virginia's health care leaders led the federal government in declaring the opioid crisis a public health emergency. As the federal response has ramped up with funds authorized under CARA, the 21st Century Cures Act, and the 2017 Omnibus Appropriations bill, Virginia's state government, localities, researchers, and providers have proven eager partners.  The State received $9.7 million under the first round of funding authorized by the 21st Century Cures Act, to support medication-assisted treatment (MAT) for addiction and to purchase the overdose-reversal drug naloxone. In 2017, other Virginia awardees have been granted over $1 million authorized under the CARA and administered by SAMHSA to support a pilot project for the treatment of pregnant and postpartum women, $596,000 through the U.S. Department of Justice's Bureau of Justice Assistance to enhance collaboration between criminal justice and health agencies, funding directed to support the PMP, drug courts, CSBs, and multiple researchers.
True to form, Virginia has also tapped native talent to seek innovative solutions. Governor McAuliffe convened, in September, an Opioid Addiction Crisis Datathon with a stated goal of "using data to disrupt" Virginia's opioid crisis. Groups ranging from consulting groups Kearney & Co and PricewaterhouseCoopers (PwC) to university groups from the University of Virginia (UVA) and Virginia Commonwealth University (VCU) to the Virginia Department of Health (VDH) and even the Virginia Department of Transportation (VDOT) participated. Common issues were identified, including the failure to connect those at risk with available resources, resulting in millions of dollars left on the table each year. Solutions included the use of sociodemographic data to target areas of need, development of tools to permit accurate risk stratification to drive intervention, interventions to prevent drug use in at-risk adolescents.
What Should We Be Watching?
Of great concern within the healthcare community is the growing understanding that a significant subset of those who develop opioid use disorder first encounter these drugs through legal prescriptions for pain medications following an injury, surgery, or similar condition. Among heroin abusers, the CDC reports that three out of four previously abused prescription pain medications.  Providers are redoubling efforts to address their role in the crisis. Surgeons, anesthesiologists, and nursing specialists have targeted areas of high opioid utilization, such as the perioperative and postoperative period, and developed protocols to use patient education and non-opioid pain management to drastically reduce the use of opioids after surgery while also reducing cost and improving outcomes and patient satisfaction. Dedicated providers and researchers continue to delve into the social and biological basis for substance abuse and the development novel medical and behavioral interventions.
While the regulation of pain clinics, the establishment of PMPs, provider education, and the adoption of legislation limiting the prescribing of opioids have shown promise in reducing excessive opioid prescribing, providers and patient advocates have also warned that there is a fine balance between limiting opioid use and raising barriers to the treatment of pain. Careful attention must be paid, going forward, to both the positive and, potentially, negative impacts of legislation.
Finally, while the urgency of the opioid crisis is broadly understood, there is much to be learned about the effectiveness of various interventions. At the moment, the future of funding of these efforts, not to mention health care and the federal government, itself, remains in flux. In this setting, it will be more important than ever to understand what works, what doesn't, and how to most effectively channel limited resources to impact this growing crisis.