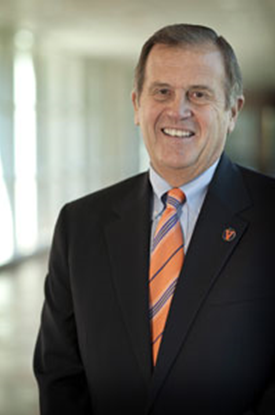 Mr. Ed Howell currently serves as Professor of Public Health Sciences at the University of Virginia. He previously served as the Vice President and Chief Executive Officer of the University of Virginia Medical Center from 2002 to 2014.
For the past 43 years, Mr. Howell has dedicated his life to academic medicine- working, teaching, and moving through the administrative ranks at the Universities of Minnesota, Georgia, and Iowa. Mr. Howell served for eight years as CEO of the University of Iowa Hospitals and Clinics. Prior to joining the University of Iowa Hospitals and Clinics, he served as CEO of the Medical College of Georgia Hospital and Clinics for eight years and prior to that, ten years on the administrative staff of the University of Minnesota Hospitals.
Mr. Howell has served as a member of the Executive Committee of the Association of American Medical Colleges, Chair of the Council of Teaching Hospitals, Chair of the Accreditation Council for Graduate Medical Education, Chair of the University Health System Consortium Board of Directors, Co-Chair of the Advisory Board for Clinical Research at the National Institutes of Health, Chair of the Novation Board of Directors, as a member of the Commission on Accreditation of Health Management Education, and as a member of the American Hospital Association Long-Range Policy Committee. He currently serves as a member of the American Society of Health-System Pharmacists Research and Education Foundation Board of Directors,  as a member of the Academic Medical Center Connection Board. Mr. Howell also chairs the Ethic Committee of the Jefferson Board for Aging.
Mr. Howell holds a Bachelor of Science degree in Biological Sciences from Muskingum College and a Master's degree in Hospital and Health Services Administration from The Ohio State University.
Professor
Public Health Sciences
M.S. (Health/Health Care Administration/Management), The Ohio State University, 1977
P.O. Box 800815
Tel: 1-434-924-3422
Fax: 1-434-924-8437
Email: reh2u@virginia.edu
Cobb Hall Room 1011A
Teaching Responsibilities:
Health Care Management, Organization and Governance
Health Care Financial Management