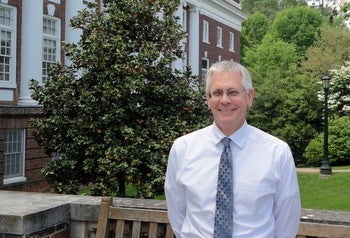 Mark Conaway received his PhD in 1985 in Statistics from the University of Minnesota. Dr. Conaway has been a faculty member in the UVA School of Medicine since 1996 when he was one of the first faculty members hired in the newly formed Department of Health Evaluation Sciences.
During his time at the UVA School of Medicine, Dr. Conaway has established a number of collaborations in basic, clinical and translational research, primarily in the areas of Pediatrics, Neurology, Cardiovascular Medicine and Cancer. Dr. Conaway has done methodological work in developing reference centiles, in methods for handling missing data, and in the design of dose-finding studies in cancer. Dr. Conaway was elected a Fellow of the American Statistical Association in 2012.
Professor
Director of Translational Research
Office of the Chair
Ph.D., Statistics, University of Minnesota, 1985
P.O. Box 800717
Tel: 1-434-924-8510
Fax: 1-434-924-8437
Email: mconaway@virginia.edu
Old Med School, Room 3885
Expertise:
Design and analysis for clinical trials; Statistical methods for animal models; Longitudinal data.
Research Interests:
Dr. Conaway's areas of research interest include: missing data, design of phase I and phase II clinical trials, and developing reference norms.
Teaching Responsibilities:
STAT 5310 Statistical Methods for Clinical Trials
Micr 8380 Practical Biostatistics
Recent Publications:
Axelrod MJ, Gordon V, Mendez RE, Leimgruber SS, Conaway MR, Sharlow ER, Jameson MJ, Gioeli DG, Weber MJ (2014) p70S6 kinase is a critical node that integrates HER-family and PI3 kinase signaling networks. Cell Signal. 2014 Mar 21;26(8):1627-1635. [Epub ahead of print]. PMID: 24662264
Wages NA, Conaway MR (2013) Specifications of a continual reassessment method design for phase I trials of combined drugs. Pharmaceutical Statistics. 2013 Jul;12(4):217-24 PMID: 23729323. PMCID: PMC3771354
Willson DF, Thomas NJ, Tamburro R, Truemper E, Truwit J, Conaway M, Traul C, Egan EE; in collaboration with Pediatric Acute Lung and Sepsis Investigators Network. (2013) The Relationship of Fluid Administration to Outcome in the Pediatric Calfactant in Acute Respiratory Distress Syndrome Trial. Pediatric Critical Care Medicine. Sep;14(7):666-72. PMID: 23925143
Wages, N., Conaway, M and O'Quigley (2012) Using the time-to-event continual reassessment method in the presence of partial orders. Statistics in Medicine, Vol 32, 1: 131-141 PMID: 22806898. PMCID: PMC3521068
Phillips, E., Conaway, M., Jagger, J. (2012) Percutaneous Injuries before and after the Needlestick Safety and Prevention Act. New England Journal of Medicine. 366: 7, p. 671-672. PMID: 22335760
Wages, N. , Conaway, M. and O'Quigley, J. (2011) Continual reassessment method for partial ordering, Biometrics. 67(4):1555-63 PMID: 21361888, PMC3141101
O'Quigley, J. and Conaway, M. Extended model based designs for more complex dose finding studies (2011) Statistics in Medicine. Feb 24. [epub ahead of print] PMID: 21351287
Wges, N. , Conaway, M. and O'Quigley, J. (2011), "Dose-finding Design for Multi-drug Combinations", Clinical Trials: Journal of the Society for Clinical Trials Vol: 8 Issue: 4 pp: 380-389 PMID: 21652689. PMC3485079
O'Quigley, J. and Conaway, M. (2010) Continual Reassessment and Related Dose-Finding Designs. Statistical Science, Vol. 25, No. 2, 202–216. PMID: 21731191. PMCID: PMC3128794
Johnston, K., Hall,C., Kissela, B., Bleck, T. and Conaway, M. for the GRASP Investigators (2009) Glucose Regulation in Acute Stroke Patients (GRASP) Trial. A Randomized Pilot Trial. Stroke 40: 12, 3804-3809. PMID: 19834016. PMC2790382
Burns, T., Conaway, M., Cutter, G., Sanders, D. and the Muscle Study Group. (2008) Construction of an efficient evaluative instrument for myasthenia gravis: the MG composite. Muscle and Nerve 38: 1153-1562. PMID: 19016543
Willson DF, Thomas NJ, Markovitz BP, Bauman LA, DiCarlo JV, Pon S, Jacobs BR, Jefferson LS, Conaway MR, Egan EA, and members of the Pediatric Acute Lung Injury and Sepsis Investigators (PALISI) (2005) "Effect of Exogenous Surfactant (Calfactant) in Pediatric Acute Lung Injury, Journal of the American Medical Association 293 (4): 470-476
Conaway, M., Dunbar, S., and Peddada, S. (2004) "Designs for single or multiple agent phase I trials", Biometrics, 60, 661-669.