Neurorecovery
University of Virginia Health System and
UVA-Encompass Health Rehabilitation Hospital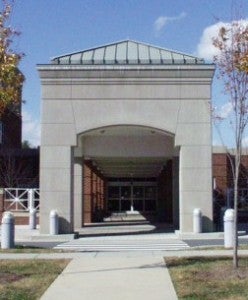 At the core of the Neurorehabilitation Center is a team of neurorehabilitation specialists who work closely together to provide each individual with a comprehensive recovery program designed specifically to meet the individual's rehabilitation needs. The Neurorecovery Program, offered by the University of Virginia Health System and the UVa-Encompass Health Rehabilitation Hospital, offers a full continuum of neurorehabilitation services for individuals with acquired brain injury, stroke, multiple sclerosis, and other acute and chronic neurologic disorders.
Mission
The Neurorecovery Center works to enhance the quality of life and functional independence of persons with neurologic disorders by offering the highest level of rehabilitation care and management.
Facilities
The UVa-Encompass Health Rehabilitation Hospital is a 50,000-square-foot state-of-the-art rehabilitation facility located on the Fontaine campus of the University of Virginia Health System. This facility includes 50 acute inpatient rehabilitation beds, an aquatics center, and neurorecovery and outpatient therapy centers.
Specialized Programs
The Neurorecovery Unit – Housed within the 50,000-square-foot state-of-the-art UVa-Encompass Health Rehabilitation Hospital, this unit offers acute comprehensive rehabilitation for individuals who require intensive inpatient rehabilitative care. A multidisciplinary team of neurorehabilitation specialists provides a broad range of clinical services including physical rehabilitation, cognitive and behavioral retraining, assessment of assistive and adaptive equipment needs, caregiver education and training. The unit also houses an overnight ADL suite in which family members may spend the night in order to learn the skills necessary to provide care to their loved one prior to discharge home. Average stays on the inpatient unit range from 3 to 4 weeks, but vary depending on the individual's functional needs. Following completion of the program, individuals may choose to enroll in either the day treatment program or receive individualized outpatient therapies.
Neurorecovery Outpatient Therapies – The UVa-Encompass Health Rehabilitation Hospital offers a host of specialized outpatient therapy services. These include:
Gait Training

Falls: Risk Assessment and Modification

Therapeutic Exercise

Motor Recovery/EMG biofeedback

Aquatics Therapy

Neuropsychological Assessments

Neurocognitive and Visual/Perceptual Re-Training

Self-Care Skills Training

Driving Assessment and Training

Supportive Counseling

Nutritional Assessments

Remediation of Speech, Language and Swallowing Disorders

Therapeutic Recreation

Caregiver Training and Education

Community Re-Entry Outings

Prescription of Assistive and Adaptive Equipment

Vocational Counseling Referrals

Home Safety Evaluations
Neurorecovery Family Resource Center – housed within the UVa-Encompass Health Rehabilitation Hospital, this center contains a comprehensive collection of reference materials which persons may access in order to research information on brain injury, stroke, and other neurologic conditions. The Resource Cetner is open Monday through Friday, 8 a.m. – 5 p.m.
Neurorecovery Educational Series and Family Support Program – This program includes small group sessions that are both educational and supportive in nature. Speakers and group facilitators will include staff from the hospital as well as individuals from the local community. For information on scheduled sessions, please contact the hospital at (434) 244-2000.