In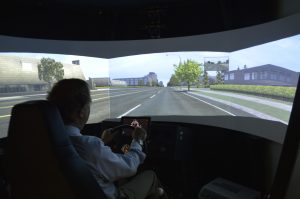 order to make sure that drivers are safe when taking to the road, the University of Virginia Health System founded the Virginia Driving Safety Laboratory (VDSL) to provide patients with the opportunity to receive comprehensive assessments of their driving abilities. The VDSL also provides online learning modules for individuals and their family members to gain information about topics such as Driving with ADHD and Driving with Diabetes.
Current Studies
New and Experienced Driver Differences
Researchers at UVA and Virginia Tech are working together to investigate difference in driving behavior between experienced drivers and new drivers with and without Autism Spectrum Disorder (ASD).  The team is measuring driving performance in a simulator and in a research vehicle.
What's involved?
One visit to UVA's Driving Safety Laboratory to…

Complete questionnaires.
Drive a virtual reality driving simulator for about 50 minutes.
Drive a research vehicle in Charlottesville for about 25 minutes.

Complete questionnaires at home.
Who qualifies?
New drivers, with and without ASD, who were licensed in the past 36 months.
Experienced drivers without ASD, usually parents of new drivers, who have been licensed for 10 years or more.
What will you receive?
Opportunity to participate in and contribute to driving safety science.
New drivers receive a written report about their driving abilities.
Up to $50 compensation for time and effort.
For more information call 434-924-8654 or email driving@virginia.edu