Virginia Driving Safety Laboratory
Driving Evaluations
Driving Responsibly
Driving is a central part of many people's lives.  Without driving, life can feel limited and even depressing.  However, driving is a high-risk privilege, with the potential to put drivers, passengers, and others in danger.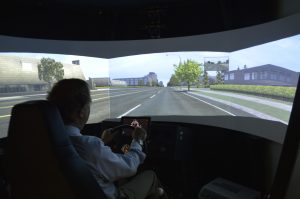 As people age, they must make decisions about whether to drive, especially if they are recovering from a brain or limb injury or  suffer from medical problems or progressive diseases like Parkinson's or Alzheimer's.
The Virginia Driving Safety Laboratory helps drivers, families, and doctors make informed decisions about whether someone should drive.
What Abilities Does Driving Require?
Good vision
Coordination and quick reflexes
Memory
Paying attention to more than one thing at a time
Aging, alcohol, poor sleep, medical problems, stroke, head injury, medications, and other things may make it harder to drive.
What Should You Expect at an Evaluation?
Completing a driving history questionnaire at home.
a 75-90 minute session at the Virginia Driving Safety Laboratory, broken into 10 separate tests consisting of;

Instruction period
Practice round to demonstrate understanding
Resolution of any questions or concerns with what to do during the test
Test rounds

A written summary of your results, mailed or faxed after your visit and your objective scores have been compiled.
The Driving Simulator
You will drive a simulator that measures your ability to steer, control your speed, and negotiate obstacles in the road.  While the driving simulator is not exactly like a real car, it requires similar skills and provides important information about driving strengths and weaknesses.
Who Will See Your Results?
The information we gather will be given directly to you.  We will not send your results to your physician, insurance providers, employers, or the Dept. of Motor Vehicles unless you sign release forms asking us to do so. We contact the Department of Motor Vehicles only when testing strongly suggests that someone should stop driving and he or she refuses to do so.
For more information call 434-924-5913 or email vdsl@virginia.edu