M Sean Peach, MD PhD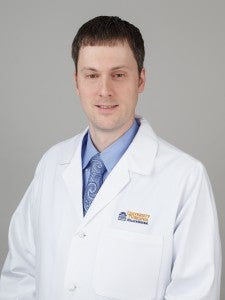 M Sean Peach, MD PhD
Sean is currently a fourth-year resident in the Radiation Oncology program. He grew up near Clinton, NJ and had the privilege of being accepted to the University of Virginia as an undergrad.  Sean has always had many creative interests and decided to pursue both his MD and PhD degrees at UVA. His thesis employed autologous stem cell technologies for tissue regeneration. Sean focused on rotator cuff tears with a translational rat model using a novel, biodegradable polymer nanofiber matrix that served as a reservoir for mesenchymal stem cells and provided structural tissue support after surgical repair.  The laboratory of his mentor, Dr. Cato Laurencin MD, PhD, focused on all aspects of material science and regenerative engineering including nanoparticle drug delivery where he worked on several side projects with targeted chemotherapeutics. This work helped stimulate Sean's interest in oncology and eventually lead him to the fascinating field of Radiation Oncology. Again, Sean had the great opportunity to continue his training in UVA's Radiation Oncology program.
Sean's research interest is to use his background in nanotherapeutics and stem cell biology to work towards new therapeutic technologies. Being procedurally oriented, his clinical interests include brachytherapy, which is a strong aspect of our program with CT on rails available for gynecological cases, and HDR prostate brachytherapy.
During his time in Charlottesville Sean was fortunate enough to marry his college sweetheart and have two daughters who enjoy the beauty and outdoor activities of Charlottesville. He likes to spend his free time outdoors with his family. Sean also enjoys surfing, snowboarding and outdoor photography.
Publications