Current Representatives
Fourth-Year Rep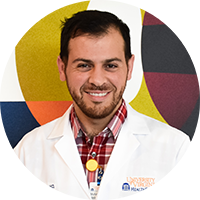 Mohammad Halaibeh, MD

Dr. Mohammad Halaibeh attended Stony Brook University as an undergraduate, received his medical degree from Marshall University, and completed his surgical internship at UVA.
Dr. Halaibeh has had a strong interest in promoting justice and equality since his childhood. He was born in Jordan and lived there until July of 2001 when his parents sent him to the United States to live with his uncle. Two months later, on September 11th, the World Trade Center was attacked, and everything changed. As if having to learn English and being in an entirely new country and foreign culture were not enough, Dr. Halaibeh became the target of many racist comments and even physical assaults. From that point onward, he deeply understood the importance of being part of a community that is supportive of all peoples. Since then, he has made a commitment to promote diversity and inclusion wherever he can.
Dr. Halaibeh's goal in being a Diversity Representative is to be a voice for social justice. His desire is not only to be an example of inclusion generally, but to encourage underrepresented minorities to specifically consider a career in the field of Radiology. His belief is that the quality of health care, patient satisfaction, and the health care work environment improve with a diverse care team.
---
Third-Year Rep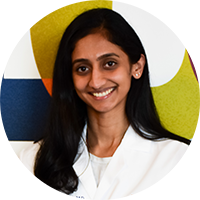 Sukhdeep (Sukhi) Grewal, MD

Dr. Sukhdeep Grewal received her undergraduate degree from Rutgers University in New Brunswick, NJ. She earned her medical degree here at UVA School of Medicine and completed her internship in General Surgery at UVA as well.
Dr. Grewal chose to become a Diversity Representative with the goal of exposing more women and minorities to the field of Radiology. She hopes that this program will make UVA a place that would attract those who would otherwise not consider it a possibility. Through outreach and mentoring, she believes that the representatives' efforts can change preconceived notions that hold people back from choosing a career in Radiology. She has tried to live her life with a uniquely defiant attitude toward culturally defined gender norms and believes this is the next step on that path.
She looks forward to the opportunity to be a more active participant within the realm of medicine as a Diversity Representative.
---
Second-Year Rep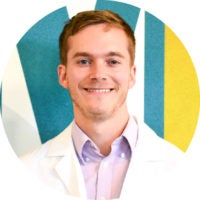 Peter Duden, MD

Dr. Peter Duden attended the University of Tennessee, Knoxville for his undergraduate degree. He completed his medical school training at the University of Tennessee Health Science Center in Memphis and his preliminary medicine year here at UVA.
Dr. Duden's primary work in diversity and inclusion has been in the area of LGBTQ advocacy. After coming out as gay, he advocated for LGBTQ visibility throughout his undergraduate and medical training. He was a leader of the LGBTQ group UNITE in medical school and worked with the deans of the school to make the institution more LGBTQ-friendly. Dr. Duden is thrilled to live in a time of such movement in gay rights and acceptance but feels strongly that there is much more to be advocated for, such as federal protections for LGBTQ employees.
Dr. Duden hopes that UVA Radiology will continue to treat diversity and inclusion as a fundamental component of the department, and leave no doubt of its acceptance of all people coming together to help those in our community. He is particularly interested in proactive measures taken against events and policies that would undermine others with personal interest in LGBTQ issues.
---
First-Year Rep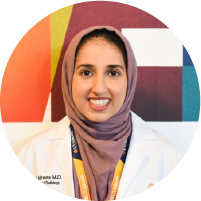 Rabia Idrees, MD

Dr. Rabia Idrees received both her undergraduate degree and medical degree from The George Washington University in Washington, DC. She completed her preliminary year in Internal Medicine at Medstar Washington Hospital Center, also in Washington, DC.
Being a woman and Muslim-American, Dr. Idrees encountered both racism and sexism at various stages of her medical career. As she embarked on her career in radiology, she noted a discrepancy between the percentage of female medical students nationally and the percentage that chose to pursue a career in radiology. In her own medical school class, Dr. Idrees was one of just two women out of ten students who applied to radiology. With this in mind, Dr. Idrees seeks to make UVA Radiology and Medical Imaging an inviting place for candidates of all backgrounds.
Dr. Idrees is proud to be a part of this much-needed initiative and hopes that UVA Radiology's efforts in diversity and inclusion encourages similar initiative at other radiology departments throughout the nation.
---
Former Representatives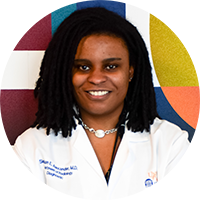 Siobhan Alexander, MD
Dr. Siobhan Alexander received her undergraduate degree from The University of Florida and completed her medical school training at the University of Iowa. She then completed a transitional year internship at Gundersen Health System in La Crosse, WI.
As the first African American female in the history of UVA's radiology program, Dr. Alexander's goal was to help make UVA a place that would attract more females, underrepresented minorities in medicine (URM), and LGBTQ physicians to choose UVA as their desired place for residency training. She was deeply invested in working with the medical school and undergraduate URM pre-medical students to develop mentorship opportunities and expose them to the incredible field of radiology earlier in their education. As a former medical student who participated in medical student groups geared toward those currently underrepresented in medicine, Dr. Alexander recognizes that having minority physician role models is extremely valuable in shaping one's career, and she hoped to fulfill that role for others as a Diversity Representative.
Dr. Alexander is very grateful for Dr. de Lange's generosity and awareness of the need for diversity within radiology to better serve our diverse patient population.