Research Track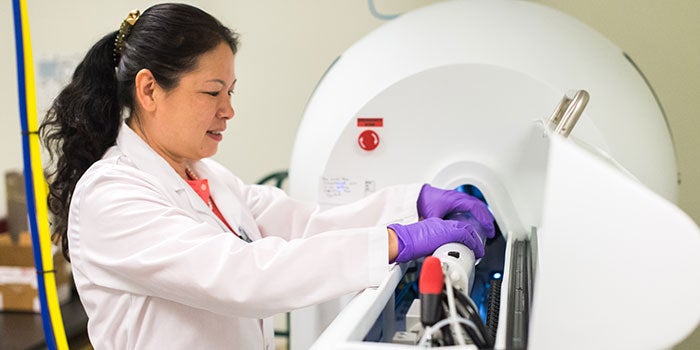 Research Track
Introduction: The Radiology Research Residency Track accepts one resident per year. The goals of the program are to become a competent general radiologist in 4 years while gaining special training and experience in performing hypothesis-driven radiology research, in anticipation of a career in academic radiology.
Training: The 4-year training program is structured to meet the American Board of Radiology and Mammography Quality Standards Act requirements for a standard diagnostic radiology residency in addition to providing extra experience in radiology research. A sample 4 year rotation schedule may be: 3 Chest/Demos, 3 Musculoskeletal, 2 Body CT, 2.5 Uroradiology, 2 Ultrasound, 2 MRI/Neuro, 3 GI/Fluoroscopy, 2 Pediatrics, 2 ER, 1 Body MRI, 1 Nuclear Cardiology, 5 Nuclear Medicine, 2 Mammography, 1 Head CT, 2 Neuroradiology/ Angiography/ Myelography, 2 Angiography/Interventional, 1.5 AIRP, 13 Research, 2 Night Float.
Research Experience: During the first year of residency, the resident is expected to identify a research area of interest and faculty mentor, as well as submit a research grant proposal, while taking clinical rotations. Focused research areas allow emphasis on performing clinical and/or basic science research and on taking coursework designed to improve one's research skills.  Blocks of protected research time are created throughout the four years and combined with clinical rotations.