Lab News
Harnessing the power of light to transform Organ-on-a-chip technology is the focus of new research by Sean Moore, MD and his research team. Dr. Moore, a professor and researcher in the Department of Pediatrics, is directing a project to combine Organ-on-a chip (OOAC) technology with bioluminescence to create a novel instrument allowing for real-time measurement of complex physiology in living cells. The new research is made possible through a $100,000 grant recently awarded to the Moore Lab by The Jefferson Trust.
Organ-on-a-chip technology represents a major step forward in preclinical research by more accurately reflecting human physiology. This technology more fully recreates the dynamic forces and physiology of the human body to create robust models which can accelerate the development of new medical treatments.
However, gathering data from the chips can be extremely challenging. Currently, detecting bioluminescence requires removing chips from the OOAC instrument and placing them into a separate device that lacks flow and stretch. This disruption makes real-time measurements impossible and increases risk of contamination.
Moore and his research team, Vinicios (Vini) Alves da Silva, PhD and Samir Muhammad and Georgia Brousseau, fourth-year UVA undergraduate students studying biomedical engineering, seek to combine OOAC with microphotomultiplier tubes to allow for real-time measurement of complex physiology. Through recombinant DNA technology, researchers engineer luciferase into the cells of humans to track the expression of individual genes and proteins. This luciferase produces light (think fireflies in the early evening) when exposed to compounds called "luciferins."
Moore's team plans to harness the power of bioluminescence to create a novel instrument (called OrChiD-Bio: Organs-on-a-Chip with Integrated Detection of Bioluminescence) that will allow scientists to detect bioluminescence in living cells implanted into organ-on-a-chip devices.
By adding integrative capabilities to OOAC systems, OrChiD-Bio will enhance their power as a biotechnology tool for precision medicine. According to the Moore team, "The future is bioluminescent!"
Source: https://news.med.virginia.edu/research/moore-laboratory-awarded-100000-grant-from-the-jefferson-trust/?j=2293181&sfmc_sub=196783636&l=830_HTML&u=36704989&mid=100026982&jb=7
Moore Lab Becomes a GOLD Certified Green Lab!
We are thrilled to announce that this past year the Moore Lab became a certified Green Lab and was awarded with a gold medal, the highest level for this certification. This recognition resulted from a series of actions implemented by team Moore Lab to reduce the scientific research footprint and became a more sustainable place.
WHY BECOME A GREEN LAB?
While often overlooked, academic research labs are a significant contributor to greenhouse gas emissions, pollution, waste, and natural resource depletion. For example, laboratories typically consume 5 to 10 times more energy and at least four times more water per square foot than do office buildings. In a correspondence published in the journal Nature, it was estimated that bio-scientific research is responsible for 1.8% of total global plastic production! Academic labs just like ours go through a lot of consumables and throw away 12 billion pounds of plastic every single year! While some of this waste is hazardous, much of it isn't and we can reduce our footprint by recycling much of the plastic used in labs.
The understanding shared in our lab is that science was meant to ameliorate human life and contribute to making a world better for everyone. With this understanding, it is not possible to pursue high-quality research while blinding ourselves to our footprint. By committing to environmental responsibility, our lab is taking ownership over its impact on the environment.
Our scientific track record has contributed to understanding how a bad environment could negatively affect the lifetime of children worldwide. And once it was said, knowledge brings responsibility, and becoming a certified green lab is another way of contributing to the betterment of the lives, not only of those children that are already here, but also of those that one day will come.
CAN MY LAB BE A GREEN LAB?
Yes! Your lab can be Green! We encourage you to pursue this certification. The Green Lab is a nonprofit that can work with any kind of lab, including labs in private institutions.  The certification program helps labs evaluate and address their environmental impact, focusing on specific key areas.
Any of UVA's research laboratories can participate in this program. Using this online certification form, labs are asked to document their sustainable actions and work with the Green Labs Specialist to learn how to make headway in new areas. You can learn more about previously certified labs in this article.
Access resources for certification 
Got questions? Email greenlabs@virginia.edu!
Moore Lab Attends the Freston Conference in Washington, D.C.
After many months of safety precautions due to COVID-19, the Gastroenterology and related organoid community reassembled in early October at the Freston Conference, hosted at the Madison Hotel in wonderful D.C. 
Attendee and Moore lab Post-Doc Deiziane Viana was invited to give a presentation on S. typhimurium infection and circadian rhythm, while staff scientist Arabinda Mandal presented in a poster session on isolated Neurospheres and characteristics from the LMMP (longitudinal muscle myenteric plexus). 
In their free time, the lab experienced the National Harbor Ferris Wheel (with a sunset), The Smithsonian Natural History Museum, and authentic Sichuan cuisine at Panda Gourmet. 
The insights and techniques brought back will add layers of value to the current 'Organ on a Chip' method as well as current developing methods for high throughput/high content organoid screening protocols. Thanks to all the members of the community who were responsible for adding this value in their attendance and participation! #Gastrosquad
The Moore Lab is participating in the Shut the sash Challenge!
Did you know an open fume hood can use as much energy as 3.5 homes, but significant savings can be achieved by keeping them closed when not in use?
Join us in this free competition: https://virginia.az1.qualtrics.com/jfe/form/SV_8zYqjyuP32ScBeK
Here is some additional information from UVA Sustainability about the Shut the Sash Challenge!
Shutting your chemical fume hood sash reduces lab occupants' potential for exposure to harmful chemicals. Additionally, this single action can help limit the loss of conditioned air, therefore yielding significant energy savings; an open chemical fume hood can use as much energy as three and a half homes. For these reasons, the American National Standards Institute and American Industrial Hygiene Association consider it "good work practice" to keep the sash shut when the hood is not in use.
Participating in UVA Sustainability's annual Shut the Sash competitions each October is great way to remind researchers, old and new, that shutting the sash enhances safety while reducing your carbon footprint. Raffle-winning teams will receive a prize. You can click here to register for the 2022 Shut the Sash Challenge!
Moore Lab Participates in the Green Labs Freezer Challenge
For the first time, the University of Virginia has won the Top Academic Organization Award for the 2022 International Freezer Challenge!
UVa will be honored at the International Institute for Sustainable Labs (I2SL) conference, featured in both the I2SL and the international My-Green-Lab newsletters, and also be featured in Lab Manager Magazine this autumn.  The Moore lab team contributed a lot to such an achievement! We are so proud of our teamwork and the job we have been doing!
The Moore Lab is proud to participate in the 2022 International Laboratory Freezer Challenge, organized by My Green Lab with the International Institute for Sustainable Laboratories (I2SL), two nonprofits working within the laboratory sustainability space.
Laboratory fridges and freezers are essential for scientific discovery and the betterment of human health—but your Ultra Low-Temperature freezer could be consuming the same amount of energy each day as a house!
The Freezer Challenge is a fun, free program that helps your lab to improve sample accessibility and sample integrity, reduce risk, and save costs for their institutions. Second, only to fume hoods, your lab's cold storage (refrigerators, freezers, cold rooms) is likely the next biggest category of energy consumers in your lab space.
We encourage you to join this free competition, which has saved more than 14.5 million kWh energy over 5 years!
Awards are given to those labs and research organizations that have done the most to save energy and improve their sample storage. The best practices are grouped into four categories:
Good Management Practices

Temperature Tuning

Retirements & Upgrades

Cutting-Edge Practices
Want to know more about the competition? https://www.freezerchallenge.org/the-challenge.html 
Dr. Moore awarded 2022 Pinn Scholars Award
Pinn Scholars are named in honor of the extraordinary career of Dr. Vivian Pinn, a graduate of the University of Virginia School of Medicine and the inaugural director of the NIH Office of Research on Women's Health. The Pinn Scholars Program seeks to recognize and reward research faculty whose scientific expertise and productivity, mentorship, and service have resulted in significant contributions to the School of Medicine and greater research community. Up to four scholars are chosen each year and Dr. Moore was selected! 
Pinn Scholars will receive $120,000 for the three-year period to support their research program, Dr. Moore has chosen to explore the Maternal Microbiome, Metabolism, and Infant Neurocognitive Developmental Study (3MINDS). Dr. Moore will engage with faculty across the Schools of Medicine, Nursing, Education, Engineering and Data Science in partnership with stakeholders in Charlottesville and central Virginia to develop an ethical and mature scientific and logistical framework and sustainability plan for the 3MINDS study. 3MINDS is a maternal-child cohort study that was developed to understand the dynamic links between the environment, brain, gene structure and activity, nutrition, and microbiota that influence healthy growth and developmental outcomes.
One of the major goals of this project is to interface with the existing community outreach programs that assist Charlottesville mothers during and after pregnancy, to ensure a healthy and productive environment for infants as they grow and develop in our city. 
You can read more about the Award and other 2022 awardees here: https://med.virginia.edu/office-for-research/funding-opportunities/
UVA Partners with Aga Khan University for NIH Fogarty D43 Training Program
Dr. Asad Ali MBBS, MPH from Aga Khan University (PI), and Dr. Sean Moore, MD, MS (Co-PI) and Dr. Sana Syed, MD, MSCR, MSDS from the University of Virginia have won the NIH Fogarty D43 Training Program. Their program is titled "Pediatric Infectious Diseases, Enteric Health, and Malnutrition in Pakistan (PIDEMP)". The team will train 5 PhDs and 7 Masters students over the next 5 years.
This D43 International Research Training Grant award will: a) Build a training program at the Aga Khan University (AKU), Pakistan; 2) Develop research capacity in infectious and gastrointestinal disease; 3) Emphasize three areas of critical importance to child survival in Pakistan; undernutrition as an enteric infectious disease (i.e., Environmental Enteric Dysfunction – EED), vaccine efficacy, and understanding and reversing the vicious association of the cycle between maternal-child undernutrition and infectious diseases. This work will be executed in collaboration with colleagues from the University of Virginia (UVa). Through this proposal, we aim to produce a cadre of high quality, independent local scientists and build sustainable capacity in pediatric infectious disease and gastroenterology and nutrition research, specifically related to EED and its complications such as vaccine failure, undernutrition and subsequent growth failure in children residing in Pakistan.
Jibraan Fawad is now a resident physician in the Pediatric Residency Program at Western Michigan University Homer Stryker M.D. School of Medicine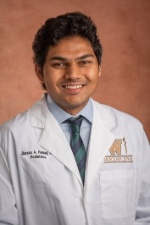 Dr. Jibraan Fawad completed his medical education from Aga Khan University and subsequently joined the Moore Lab in 2018 as a lab and research technician. During his tenure here, Jibraan worked on projects that helped us understand the science of global health and gastrointestinal disorders, including causes of malnutrition and stunting in children. After two very productive years with the Moore Lab here at UVA, Jibraan joined the incoming class of residents at Western Michigan University, School of Medicine in 2020. 
Jibraan A. Fawad, MBBS, is now a resident physician in the Pediatric Residency Program at Western Michigan University Homer Stryker M.D. School of Medicine in Kalamazoo, Michigan. His current interests lie in developing models of gastrointestinal diseases in low-middle income countries, nutrition and global health.
Gabriel Hanson Joins the Moore Lab
In early 2020, Gabriel Hanson, a Ph.D. student in Biomedical Engineering at the University of Virginia, rotated in the Moore Lab. In January 2020 Gabe joined the lab and started applying his physics background (Bachelor's Degree in Applied Physics from Saint John's University in Minnesota) to topics in biology and medicine, particularly those focused on circadian rhythmicity and the interactions between microbes and the hosts that they colonize. Gabe will be co-mentored by Sean Moore, M.D., M.S., Jason Papin, Ph.D., and Greg Medlock, Ph.D. (Any training grant info? Grant application info?)
Gabe is also interested in global health and has launched a research project to understand trends of influenza vaccination in Brazil as they relate to pregnancy and birth weight. Get info about his team that he has assembled!
Moore Lab Secures Funding to Study SARS-CoV2 Infection in Intestinal Organoids
The Moore Lab was recently awarded funding through the Bill and Melinda Gates Foundation to study enteric infections with SARS-CoV-2, the cause of coronavirus disease-19 (COVID-19). Influenza-like symptoms ranging from mild disease to severe lung injury dominate, yet symptoms occur in multiple other organs, notably the gastrointestinal tract. The virus utilizes the host angiotensin-converting enzyme 2 (ACE2) as its receptor and to understand the tissue tropism of SARS-CoV-2, multiple research groups have recently applied organoid approaches, demonstrating SARS-CoV-2 directly infects capillary, kidney and intestines—highlighting the spread of the virus throughout the body and multisystemic manifestations of illness.
Among the host factors associated with COVID-19, age and nutritional status are among the greatest risk modifiers of clinical outcomes. Importantly, no organoid studies have yet been performed on tissue from donors in low-resource settings, which tend to have both younger populations and a higher prevalence of undernutrition. We propose to leverage a repertoire of small intestinal organoids from undernourished Pakistani children with environmental enteric dysfunction (EED), healthy U.S. children, and healthy adults.
The main goals of the work are to: (1) Understand the impact of SARS-CoV-2 on ACE2 signaling and nicotinamide (NAD) metabolism, (2) Understand the impact of SARS-CoV-2 in enteroids derived from healthy children vs. children with environmental enteric dysfunction (EED)  and determine the impact of nutritional deficiency states on enteroid metabolism and SARS-CoV-2 replication, (3) Understand the impact of SARS-CoV-2 in adults vs. young children on intestinal epithelial metabolism and viral replication. Gabe Henson (PhD Student in the Moore Lab) and Brett Moreau (TUMI Data Scientist and BSL3 expert) will partner together to complete these aims. 
(Image: Vero E6 cells treated with either media alone (control) or media+SARS-CoV-2 for 48h. Dramatic cell death is observed, with the control cells still alive, attached, and confluent; the virus treated cells have ~50% of cells floating/dying.)
Gregory Medlock, Ph.D. Joins the Pediatrics Faculty and TUMI,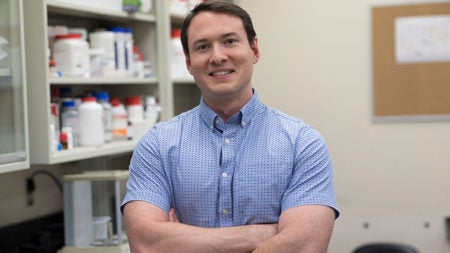 Gregory Medlock recently finished his postdoctoral work in the Moore Lab and accepted an Assistant Professor Position in the Division of Gastroenterology, Hepatology, and Nutrition within the Department of Pediatrics at the University of Virginia School of Medicine. Greg will continue his research focused on understanding the interactions between members of the gut microbiome that influence human health. He will build upon his skills acquired as a PhD student in Jason Papin's Lab and Postdoctoral Fellow in the Moore Lab to develop new computational models, methods, and software to help dissect and engineer microbiome function. 
In addition to launching a research program of his own, Greg will help lead the data science team for the UVA TransUniversity Microbiome Initiative (TUMI) with Maureen Carey, Ph.D (based in Division of Infectious Disease and International Health, University of Virginia School of Medicine). As noted on the Medlock Lab's website – if you are based at UVA or an iTHRIV-affiliated institution and interested in engaging in collaborative microbiome research, please reach out to us!
Drs. Mark Flemming and Sana Syed Receive the UVA Health System MLK Award
The Dr. Martin Luther King University of Virginia Health System Award is presented annually to a student, faculty or staff member of the Health System who embodies Dr. Martin Luther King's values and teachings, in cultural competence, health care disparities, or fostering an environment of inclusiveness, in accordance with the institution's mission and values. The Moore Lab is lucky to have two of its members nominated and awarded the 2021 MLK Health System Award. 
Dr. Markie Flemming has been an outspoken advocate for those facing racial inequalities across the nation, within our communities, and within the UVA Health System. Dr. Sana Syed has built programs that provide opportunities and resources for minority clinicians and scientists as they proceed through their careers in academic medicine. Together, Markie and Sana launched the STEM Boxes Project, which raised over $30,000 for the purchase of STEM related school materials for Charlottesville City School students during remote learning due to the COVID-19 pandemic. The team then assembled and delivered the STEM Boxes to the schools and students.
We are given the opportunity to learn from these two every day as they set examples for what it takes to actively engage with Dr. Martin Luther King Jr.'s legacy.  
The award is presented by UVA's Office of the Vice President for Diversity, Equity, Inclusion, and Community Partnerships, UVA's School of Nursing, UVA's School of Medicine, and the UVA Health System.
UVA Honors Its Leading Researchers at Boar's Head Banquet
The University of Virginia's top leaders gathered Wednesday evening at the Boar's Head Resort to honor faculty members from across Grounds for their outstanding contributions to their fields of study and societal impact through their research and scholarly activities.
University of Virginia President Jim Ryan presented the 2019 Research Achievement Awards to 13 UVA faculty members at the dinner event.
Dr. Sean Moore was awarded the Research Mentor Award. Dr. Moore is a busy physician-scientist with his own lab and has recently become the division chief of Pediatric Gastroenterology, Hepatology, & Nutrition at UVA. He also co-wrote the application for a Trans-University Microbiome Initiative grant, which was funded last year by the University's Strategic Investment Fund in an effort to make UVA a center for microbiome research. But that has not stopped him from repeatedly aiding his colleagues and providing them with key resources when they needed them.
AKU Visits UVA – A Successful Collaboration!
On May 10, 2019, Drs. Sean Moore and Sana Syed hosted an exciting visit from AKU leaders, Provost Carl Amrhein, Associate Dean Asad Ali, and Farzana Karim-Haji, Director, University Partnerships Office, Aga Khan University!
Collaborative exchanges were influential for all, during the visit with UVA's Ambassador, Stephen Mull, UVA Deans with the Health System, Pediatric Chair, James Nataro, and other instrumental faculty, staff, and students, regarding shared Data Science, Bilateral research, exchanges of students and trainees between UVA and AKU, representative of Pakistan and at a growing number of AKU campuses in Africa (Kenya, Uganda, Tanzania)–countries where UVA already has a strong research presence.
The Aga Khan University is a pioneering institution of higher education and research that works to improve the quality of life in the developing world and beyond.  AKU began life as a health-sciences university. In Pakistan, their Medical College is ranked #1 by the Higher Education Commission and their groundbreaking School of Nursing and Midwifery is the country's most influential.  With seven hospitals and more than 300 outreach medical centers, AKU is among the largest private health care providers in East Africa and Pakistan, treating more than 2 million patients per year.  Research at AKU focuses on pressing issues facing low-income countries. Their work has been widely published in leading journals such as The Lancet and has spurred the government to introduce new vaccines, reduced polio cases in insecure areas, and yielded evidence that is informing national and international efforts to improve health among the disadvantaged.  AKU has a long record of working successfully with other institutions, and goes out of its way to forge connections between the private and public sectors, the developed and developing worlds, and urban and rural areas. Their supporters include the development agencies of Canada, France, Germany, the United Kingdom, and the United States, multilateral organizations, well-known foundations and corporations, and thousands of individual donors. Their partners include numerous organizations in the countries where they are present, as well as top universities in Europe and North America.
AKU is also interested in adding an additional year to their curriculum that incorporates further training in the humanities and basic sciences, as well as capacity building for research and quality improvement activity at their nursing campuses and developing strengths in the liberal arts at their main Pakistan campus.
We are proud to join them in collaborative efforts, partnering in this important research and contributing to the mutual journey to successful healthcare and education!
Microbiome directed prevention of parenteral nutrition associated with liver injury in the NICU.
We are pleased to announce that Dr. Ajay Kumar, helped in a tremendous way, to secure the receipt of funding for the submission to the iTHRIV Pilot Translational and Clinical Studies (PTC) Program and the iTHRIV leadership.  The title of his proposal is "Microbiome directed prevention of parenteral nutrition-associated with liver injury in the NICU.  Parenteral nutrition (PN) is a lifesaving nutritional intervention in premature infants with delayed tolerance of oral or enteral feeds. PN-associated liver disease or cholestasis (PNAC) is a frequent complication of PN, with high morbidity and associated healthcare costs. Lipid sparing strategies and alternative lipid formulations mitigate the risk and severity of PNAC in the NICU, however, these approaches are often used as reactive countermeasures–once the liver injury has already occurred. The central theme of this proposal is to leverage the microbiome to predict–versus simply react to–PNAC, thereby setting the stage to prevent PNAC in high-risk children. To that end, we propose pilot studies to elucidate the role of the gut microbiome in PNAC and identify microbiome signatures predictive of PNAC. Through an established iTHRIV UVA-Inova collaboration, we have for the first time identified blooms of gram-negative bacteria (Klebsiella, Veillonella, Enterobacter, and Enterococcus) in the stool of 4  sets of premature twins discordant for  PNAC.  Importantly,  clinical NICU  infections with gram-negative bacteria are known risk factors for  PNAC;  however,  the ability to predict PNAC based on a subclinical bloom of these bacteria in neonatal stools has not yet been fully explored.  Further, no definitive chain of causality between these blooms and  PNAC has been established.  These knowledge gaps warrant further exploration in both neonates and preclinical models.  Hence, our goals are two-fold:  1) Establish a microbiome-based prediction algorithm for PNAC to facilitate early intervention, 2) Determine the degree to which transplantation of PNAC-associated microbiota from infants to germ-free mice confers susceptibility to PNAC. If successful, these pilot studies will provide compelling preliminary data for comprehensive collaborative project proposals between the Departments of Pediatrics at UVa, Inova, Carillion, and VCU and UVA Biomedical Engineering.
K23 NIH Mentored Patient-Oriented Research Career Development Award
It gives us great pleasure to announce that Dr. Syed received her K23 NIH Mentored Patient-Oriented Research Career Development Award (starting fall 2019) focused on computational image analysis and 'omics approaches to study gut structure in children with undernutrition (environmental enteropathy and celiac disease). This award is presented to individuals with an intensive, supervised, patient-oriented research experience in order to provide support and protected time for a path towards a productive and independent clinical research career with a 50% applicant success rate.
Sana Syed joined the Department of Pediatrics at the University of Virginia School of Medicine following her completion of fellowships in Advanced Nutrition from Boston Children's/Harvard Medical School, and Gastroenterology, Hepatology, and Nutrition from Emory University, and her Master's in Clinical Research (Emory). She has served as a co-PI of a UVa Engineering-in-Medicine seed grant with Dr. Brown (Founder, UVA Data Science Institute) applying computational imaging to study intestinal mucosal alterations in children, is the PI of a THRIV Scholar Career Development Award applying computational modeling of intestinal mucosa for image and multi-omic analyses. With Dr. Moore, Director of Pediatric Gastroenterology Research, and senior physician-scientist and cell biologist who studies gut structure as her faculty mentor, Dr. Syed is immersed in a highly productive, collaborative environment at the Child Health Research Center where she works among a strong multi-disciplinary team that is productive and well-supported.
Join us in congratulating the talented and driven Dr. Syed for her K23 NIH Career Development Award!
Bill & Melinda Gates Foundation Award
Gregory Medlock, MD
Research Associate
Greg was recently awarded a Phase I Grand Challenges Exploration grant from the Bill & Melinda Gates Foundation. Through this $100,000, 18-month award, we will devise an approach to improve the biomanufacturing of gut microbes for use in probiotic formulations. This goal will be met by designing co-cultures (multiple strains grown together) that produce bacterial biomass more efficiently than the monoculture systems traditionally used. To enable the design of these efficient communities, we will experimentally profile the metabolism of 10 gut microbes across many environments to learn what they consume in order to grow and produce as a result of growth. These data will be coupled with algorithms from the computational geometry field to assign the gut microbes to bioreactors that will optimize their metabolic cooperation with other strains. We will test whether these cooperative, engineered communities produce biomass more efficiently than each of the strains grown alone. By pairing computational modeling with data-driven approaches, we hope to create a system for efficiently growing probiotics anywhere in the world that is optimized based on the resources that are available.

Past News