Travel Information
Directions:
Lost?
If you have any problems, please do not hesitate to call us at:
(434) 243-5622
The University of Virginia SPEED Clinic is located at:
640 Kirtley Ln, Suite 102
Charlottesville, VA 22903
Written Directions:
Once you turn off of Ivy Road onto Kirtley Lane, head down to the bottom of the hill, past the UVA Transitional Care Hospital. The first thing you see will be Ivy Fire and Rescue. The Parking Lot is immediately on your right, in front of the brick building labeled "UVA Motion Analysis Laboratories." Our entrance is the glass door beneath that sign, to the right of the fire station.
Please ring the doorbell to the left of the door and one of our staff will be with you immediately.
Photo Directions:
An aerial view of our clinic, detailing the entrance of Kirtley Ln, in-between the Transitional Care Hospital and the new Virginia Tractor location (previously the Volvo Dealership of Charlottesville).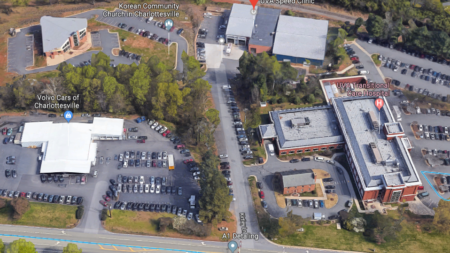 Our clinic is located in the brick building between Ivy Fire and Rescue and the Kirtley Warehouse building. The entrance is pointed out by the arrow below.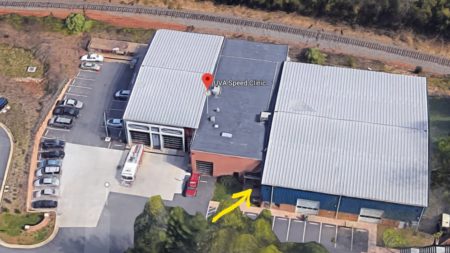 Parking for our clinic can be found directly in front of the building, circled here on the map. Parking spots for patients will have signs that read "Patient Parking."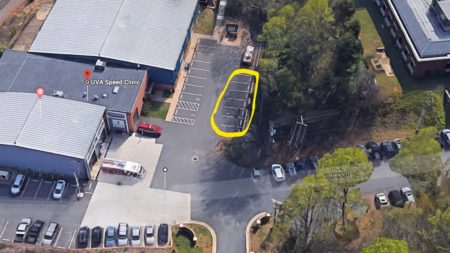 Please do not park in any spot labeled "Permit Parking," as this is reserved for employees. Anyone who parks in those spots without the proper documentation could be subject to tickets, fines, or could even be towed at the owner's expense.
Lost?
If you have any problems, please do not hesitate to call us at:
(434) 243-5622