Running FAQ
Specific FAQs:
Many running shops and coaches are well trained and can serve as an excellent "starting point" to identify basic issues such as "improper running form" or inappropriate footwear.  Our experienced staff includes competent sports physicians and physical therapists, well versed and published in sports biomechanics.  We dedicate our careers to analysis of athletes like you.  Our unique motion analysis laboratory at the SPEED Clinic has equipment that is able to perform detailed assessments that cannot be accomplished elsewhere in the United States.  Using a rare "force instrumented" treadmill in conjunction with a state of the art camera system, we have the unparalleled ability to obtain "multi-stride" force data (kinetics) at steady state that allows us to quantify how hard you are working to control each joint (kinematics) during movement.  This information cannot be obtained in motion analysis laboratories that use only cameras to assess only range of motion (kinematics) data.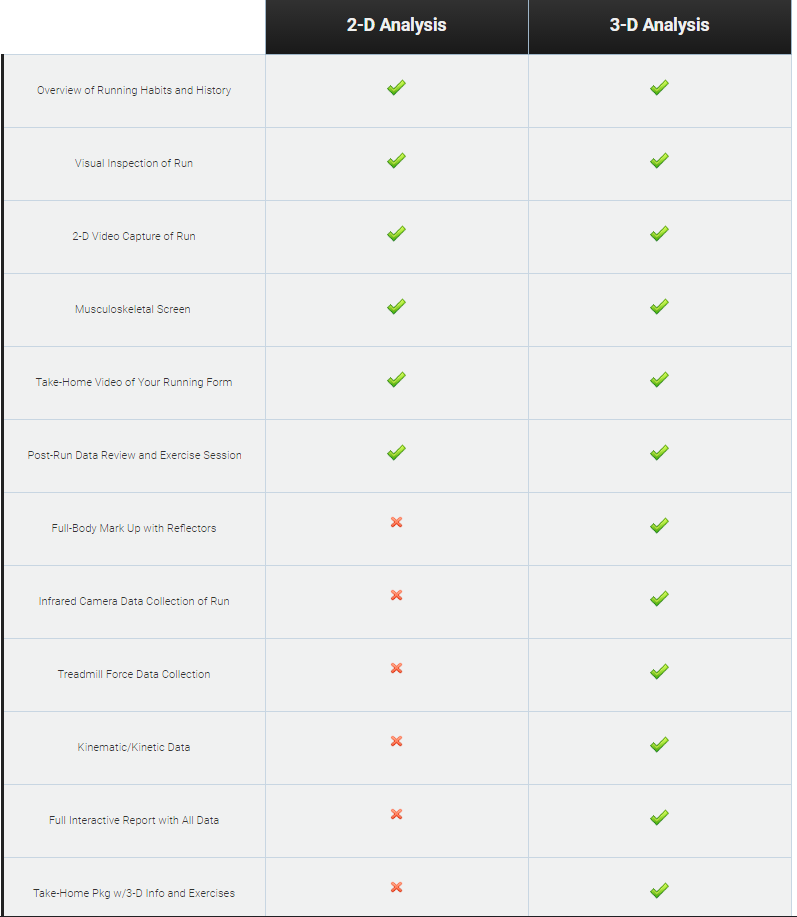 *95% of our patients prefer the 3-D Analysis since it more accurately pinpoints problem areas in the body, especially in cases where injuries are the primary issue. 
A 3-D running analysis is extremely technologically involved. A 3-D analysis involves intricate force data, infrared camera readings, a complete spreadsheet work-up of all body angles during running, and an interactive, take-home report complete with a personal, 3-D modeled skeleton.
A 2-D running analysis includes all of the same personal-hands on training that a 3-D analysis does, but does not include all of the same in-depth technological tools. While a patient will still run on the treadmill and get digital video of themselves, there will be no force data, no spreadsheet, and the corrective exercise portion of the visit will be primarily concerned with information collected through strength tests that are without the assistance of our infrared camera system.
3D Gait Total Performance: $375
RunWell (2D Gait Performance Program): $200
Running Lactate Threshold: $120
Running follow-up (

ONE

skype or video session): $75
We use objective criteria and work with local footwear experts to make shoe recommendations.  We have no monetary or other incentive to steer you to a particular brand.  Footwear is an essential piece of equipment in running because it serves as the interface between the athlete and contact surface. Appropriate selection of footwear has been shown to accelerate healing.  Conversely, healing is prolonged healing following the use of inadequate footwear.  At this time, we do not fit orthotics.
Since we have to adhere reflective markers to a good portion of your body, bring:
Shorts, preferably not below the knee
Ankle or low-cut socks
The shoes and any inserts/orthotics in which you typically run
A comfortable t-shirt or top (you may run with your shirt off as well)
Minimize reflective clothing/shoe material
Please note the markers may stick to body hair, and removal of markers at the end of the session is much like taking off a band-aid.  There is on-site access to a changing area and shower.
No. Much of your visit will be spent on the musculoskeletal screen, taking injury history, calibrating the markers, and doing exercises specific to your needs. The total time can be reduced if you supply us with an injury history in advance.  Most people actually run less than 10 total minutes.
This is common and an example of imbalances and fatigue catching up with your tissue thresholds.  Typically, the imbalances start small and build.  Our technology will pick up on the causes early on, even if you don't feel them yet.  However, if you feel compelled to be analyzed with a specific level of fatigue, you are welcome to run outdoors or indoors before-hand.  Typically, this is not necessary.
We are committed to long-term improvement in your performance.  Visiting us for a couple hours and going home with nothing but a list of drills and thoughts is not good enough.  Therefore, we are developing a system whereby you can have encrypted access to your specific drills and exercises.  These videos, pictures, and texts can be downloaded to your mobile device.  You'll have access to them anywhere, even while running!  And by downloading them you'll not have to worry about streaming data usage from a large host site with ads.
If you are open-minded and diligent about your "homework," we expect to see meaningful results within a couple weeks.  But our commitment to your satisfaction does not end there. We can supply you with progressions for each exercise and drill to upgrade the challenge and hopefully the results.