The SPEED Clinic Experience
3-D gait analysis
While we see many elites, the majority of our visitors are recreational folks. They visit us from all over the world to get help with three essential questions:
Why am I getting hurt?
What is holding me back from faster times?
What type of shoe is right for me?
The SPEED Clinic is here to answer these questions, and much more! To reach that lofty goal, we spend a lot of time with you. 2-3 hours, in fact. We show you what is going on in simple terms. The 3-D analysis uses extensive technology to provide hard evidence about your running. We combine this with diverse testing to yield tremendous insights into why you run the way you do. Then you learn how to improve.
Visiting the SPEED Clinic is an intense experience, full of knowledge and discovery. You don't need to be a professional or elite runner to benefit from what we offer. Here is what you can expect from our 3-D program: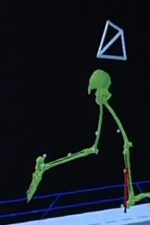 Appointments last roughly 2.5 hours.
You will run for about 8-10 minutes at your chosen pace

No acute pain or limping allowed.

Full discussion of injury history and training habits.
Thorough assessment of your movement, e.g. muscle weakness.
Complete explanation of your running

You learn why you get hurt or lose speed.

We show you how to improve.
You take home your 3-D data and narrated videos of corrective drills.
This can become overwhelming to people, so we try to keep it simple. We even write down the key points and e-mail a thorough summary of the session. We can work with your local therapist or coach on long-term solutions. We also offer a shorter 2-D video analysis which many runners find beneficial and accessible.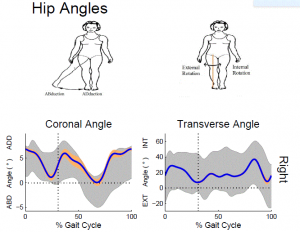 What a Runner Needs
Running should be pretty straightforward: just lace 'em up and go. Most runners know there is a catch: we need volume to achieve our goals, but volume can lead to overuse injuries.
So why do so many runners get injured? The truth is that each runner needs to dynamically stabilize about 2.5 times his/her body weight on one foot. Add this up over 1500 foot strikes per mile…it's easy to see how subtle issues can lead to major symptoms.
In essence a runner needs enough movement (flexibility) to complete a solid stride. At the same time, strength and power are required to take advantage of the body's own structure. The SPEED Clinic advantage is that we not only pick up on your limitations, we help you improve them with straightforward drills and exercises.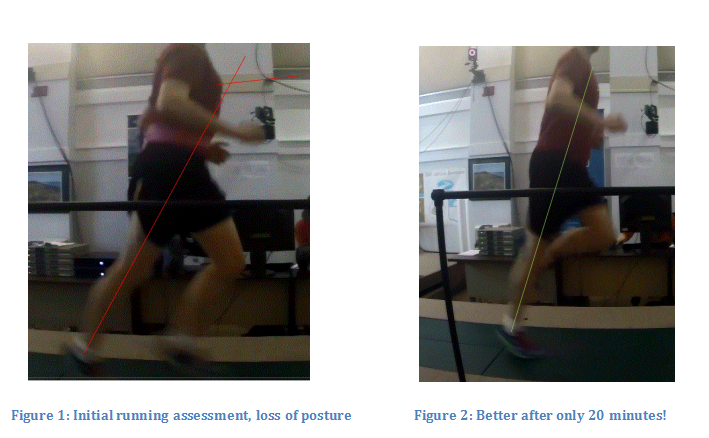 Objective Assessments
There are three key components which we integrate to figure why YOU run the way YOU do, and how you might do it BETTER. Very few places on earth have this combination of tools:
Musculoskeletal Screen – we examine how you move in several simple tasks, none of which are running but all of which impact your gait.
Kinematic Data – Kinematics are the data which reflect the movement of your joints throughout your stride.
Kinetic Data – kinetics are the forces that act on joints.
For kinematics (joint movement), we use a very sophisticated system of cameras which collect your gait movements at 500 frames per second! There are inefficiencies and asymmetries that the human eye might miss in a simple video analysis, but we pick them up every single time.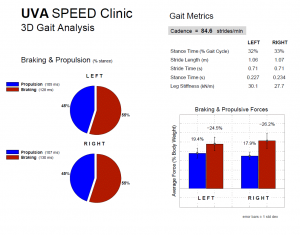 Laboratories that only examine motion without incorporating forces (kinetic data), are unable to perform thorough assessments. We combine that evidence with a wealth of coaching experience to deliver real results.
Individual Impact & 

Results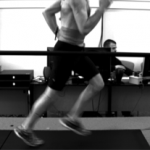 We recognize each individual has a unique biomechanical footprint. Therefore, we spend ample time reviewing your training history and chronology of previous injuries. The training program, exercise selection, and propensity for injury must be evaluated on a case-by-case basis. This takes us a lot of time and effort, but it's worth it.
Our primary goal is to educate you. This allows you to understand why and take ownership of the situations.  Based on your unique biomechanical profile, we then provide you with a detailed plan for improvement. This philosophy has rewarded us with hundreds of thank-you notes and happy athletes!