3-D Golf Analysis
Want to know why you slice?  Or why your back bothers you when you practice putting?  Traditional 2-dimensional swing analyses and coaching only guess at the problems and inefficiencies buried in a movement as intricate as the golf swing.  You deserve more expertise than that and our technology can deliver.  We use 12 infrared cameras to track every movement and force of every joint in your swing.  Our technology also produces Doppler-like data (Trackman, Flightscope, etc.) on swing path, face angle, angle of attack, and swing speed.  We couple these technical offerings with a full biomechanical screen and years of experience teaching golf to give you the best possible advice on how to improve your game.  It may be a couple stretches, a change to your putting grip, and some specific drills for the range.  Whatever the case, you can be sure we've used the finest technology and expertise to uncover the areas most in need of help.  We can work with your coach or serve as that resource; the choices and benefits are up to you.  You receive a DVD which includes 3-D animated swing data; motion and force data; swing drills; course management and mental game tips; narrated corrective exercises; and a detailed write-up of all our work together.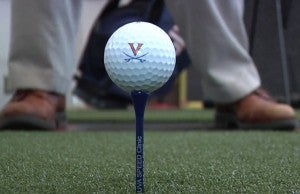 To schedule your 3-D golf experience, call (434) 243-5605 or e-mail Max Prokopy at mpp3k@virginia.edu
3-D Gait Analysis
Over 90% of our visitors do the 3-D walking or running analysis for good reason.  It is what we are "known" for.  While digital video and experienced coaching can help your running, it does not come close to the ability of 12 infrared cameras to objectively collect data on all your joints.  We get black-and-white statistics that summarize the joint movements and forces occurring while you run.  Rather than guess at what the underlying causes or relative movement extremities are, they are objectively presented to you as a means of helping you become more efficient and resilient.  These critical observations are tied to a full biomechanical screen and injury history.  This is how we get to the heart of matters which affect your performance.  Finally, we take the time to coach you through stride changes and corrective exercises designed to get you up to SPEED.  You receive a DVD of your running data, digital video, 3-D animation, narrated corrective exercises, and a commitment from our staff to help you long-term.  That's a lot of bang for your buck!
To schedule a gait analysis, call (434) 243-5605 or e-mail Max Prokopy at mpp3k@virginia.edu
2-D Gait Analysis
2-D stands for 2 dimensions, which basically means we capture your running form in digital video.  This is done from 2 angles: face-on and side view.  The digital videos are used in conjunction with a full biomechanical screen to help us trace inefficiencies through your unique movement patterns.  Once the movement screen is complete we carefully review you videos and summarize the important areas where your stride breaks down or loses alignment.  The final piece of the puzzle is guiding you through gait drills and corrective exercises to fix the problematic patterns we observed.  As with our other analyses, you should be able to run pain free for at least 5 minutes.
Runners have a natural enemy – themselves. Since the running boom of the 1970's, the number of injuries in this demanding sport have multiplied. Experts estimate that more than 70% of all runners will experience an injury severe enough to require at least one week's abstinence from running during the course of their running careers. Just as running is a special type of sport activity, so running injuries require a specialized expertise. Today, injured runners have their own place to go for expert care and healing, the UVa Runner's Clinic.
Eric Magrum PT OCS FAAOMPT at UVA-Healthsouth Outpatient Sports Medicine Center works in concert with the Center for Endurance Sport to provide Physical Therapy services to the athletes that been evaluated through the SPEED clinic to provide additional treatment of the biomechanical dysfunction limiting their performance goals, preventing injury, or rehabilitate from an injury. Through communication with the Center for Endurance Sport clinicians and engineers, and utilization of the kinematic and kinetic data gathered, we can assist with addressing the source of the problem.